Election 2006
More Election 2006 stories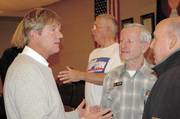 Steamboat Springs — Recent campaign finance reports shed light on a claim made Monday by Republican Congressional candidate Scott Tipton.
Speaking at a public forum at Centennial Hall in Steamboat Springs, Tipton said "the East Coast and Nancy Pelosi" are the primary sources of campaign funding for his opponent, U.S. Rep. John Salazar, a Democrat from Manassa. Pelosi, a Democratic U.S. Rep. from Northern California, could become Speaker of the House if Democrats gain a majority in the U.S. House of Representatives on Nov. 7.
During comments in which he also talked about border security and renewable energy, Tipton said "one of the most important votes" cast by a member of Congress is the vote for House leadership.
"(Salazar's) first vote, if elected, will again be for Nancy Pelosi as Speaker of the House," Tipton said, adding that Pelosi supports tighter gun control laws. "You can cast me in cement up to my neck, but I promise you, I will not make that vote."
Tipton said most of Salazar's campaign funding comes from groups hoping to install Pelosi as Speaker, rather than Colorado's Third Congressional District, which spans 29 counties across western and southern Colorado.
The latest campaign finance report filed with the Federal Election Commission is a quarterly report filed Oct. 15. The report states that Salazar raised a total of $240,331 in 271 campaign contributions during the quarter, from July 20 through Sept. 30. Of those contributions, more than 150 are from donors in Colorado, including at least 75 from donors within the district. Individuals contributed more than $125,000 to the Salazar campaign during the quarter.
Three of those individuals are from California. Their contributions totaled $3,350.
Political action committees, or PACs, contributed $114,000 to Salazar's campaign. Many of those PACs are in the Washington, D.C., area, and one, the Committee for a Democratic Majority, contributed $1,500 to Salazar. But Washington-area contributors also include PACs for the American Medical Association, National Association of Wheat Growers, Western Growers, and Real Estate Investment Trusts.
Tipton raised $155,830 during the quarter, including $15,600 from PACs. Tipton received about $125,000 from individuals, nearly all in Colorado and most within the district.
During his remarks to an audience of about 20, Tipton reiterated his support for increased border security to prevent illegal immigrants and drugs such as methamphetamine from entering the country, and said the United States should focus on developing renewable energy sources.
"It is now a matter of national security, to move towards energy self-sufficiency," he said, saying 100 percent self-sufficiency is possible by 2025.