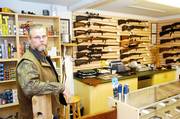 After flipping through the yellow pages during a visit to Steamboat Springs, Don Holcomb decided it would be a good idea to open a gun shop.
"There wasn't one here," Holcomb said. "I couldn't believe it."
It was not as if there was no place to buy a gun. Sports Authority and Wal-Mart sell guns, but Steamboat lacked a locally owned and operated gun store.
That is when Holcomb and his wife, Kelly, decided to move from the eastern United States and open Circle H Firearms, 1890 Elk River Plaza, a slightly hidden location in the same complex as The Truck Stop.
Holcomb is a retired law enforcement officer who said he has been hunting since he was "knee high to a grasshopper."
"This was supposed to be my retirement job, but it's turned into a full-time job," Holcomb said.
He is not complaining. He is just surprised at how successful the shop has been.
"It just has blown me away," said Holcomb, who said he was looking for a bigger location. "We want to be able to provide more for our customers."
He thinks there is still a demand for a better gun selection, accessories, archery equipment, hunting supplies and black powder.
The Holcombs thought the profits from three or four guns a week would be worth opening the store.
"Our three or four a week that we were anticipating has been mind boggling compared to what we've done," Holcomb said.
He did not want to disclose the number of guns he has sold, but he did not mind saying he has sold 29 6-foot-tall guns safes since opening April 1.
Now that hunting season has arrived, he said he is ordering ammunition every day. By noon on Wednesday, he had been called three times by the other stores to see whether he had something those stores did not have. He has a good relationship with the other stores and has built a following among the local hunting community.
"It's a good relationship, and that is important," Holcomb said. "Word of mouth has worked well because we are off the beaten path."
Circle H Firearms is open Monday through Friday from 9 a.m. to 5:30 p.m. and on Saturday from 10 a.m. to 2 p.m. The store's phone number is 879-4867.