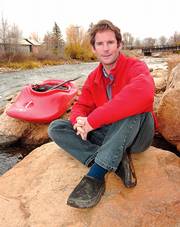 Steamboat Springs — Paddler Magazine publisher and editor-in-chief Eugene Buchanan has left to start his own publication.
"I enjoyed my time with Paddler very much," said Buchanan, who moved the magazine to Steamboat in 1992. "I want to pursue my own goals and dreams."
His last day at the magazine was Oct. 6. He is working out of his home to launch Paddling Life, the first magazine under his newly formed publishing company, Recreation Publishing.
Paddling Life will launch in February. The first edition is a gear guide, and 40,000 copies will be printed, Buchanan said. The magazine will come out five times a year.
"I think the industry is definitely healthy enough to support another title," Buchanan said.
Whitewater Life will be published twice a year and paddlinglife.net acts as a portal and hub for kayaking, canoeing and rafting enthusiasts. People can subscribe to the magazines on the Web site.
A subscription party will be held next month during a Friends of the Yampa benefit. Subscriptions are $10.
Buchanan's first book, "Brothers on the Bashkaus," also is coming out at the end of January. The book is about Buchanan's 28-day kayaking journey in Siberia on the Bashkaus River.
Buchanan said he always wanted his own publication.
Paddler is owned by the American Canoe Association, or ACA. The company purchased the magazine in 1997, which stabilized the magazine's subscription base, but it also meant Paddler had to appeal to diverse ACA readers. Almost 20,000 members receive the magazine.
He said he respects the ACA and what it has done for the sports, but he did not like the direction Paddler, a bi-monthly, 55,000-circulation national magazine, was headed.
Buchanan began writing for Paddler - based in California at the time - while working as a staff writer in Boulder for the Denver Business Journal. In 1992, he became Paddler's editor and moved the magazine operations to Steamboat.
"It's a great place to base a paddling magazine," Buchanan said.
Paddler celebrated its 15th anniversary earlier this year.
Buchanan is in the process of interviewing staff for Paddling Life, and he is also looking for office space. While he works on launching a new magazine, Paddler is going through a transition period and some changes are under way.
ACA executive director Pam Dillon has been in Steamboat, and Wyatt Boughter came in last week as Paddler's new communications director.
Boughter is now Paddler's managing editor and is replacing Jeff Moag, whose last day at the magazine is this week. Other Paddler employees also chose to leave, Boughter said, including associate editor Joe Carberry, ad executive Nick Hinds and advertising director Kevin Thompson. Boughter said they are in the process of filling positions and are finishing proofs for the November-December issue.
Boughter said a new Paddler editor would be announced soon. Some of the new editorial staff would be in other locations, but Boughter said some staff would remain in Steamboat.
Paddler is moving to a "refocused direction," according to a Paddler news release. A reader survey will accompany the January and February Paddler Buyer's Guide and Photo Annual. Its purpose is to get a better idea of what appeals to ACA's 48,000 members.
"We're taking a focused look at what works well and what doesn't, based on reader feedback," said Dillon, who is also Paddler's chief executive officer. "We're very pleased with the success of the publication, but are also aware of ways to continue to improve."