Election 2006
More Election 2006 stories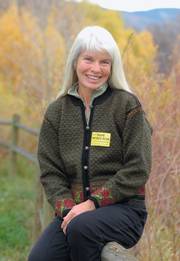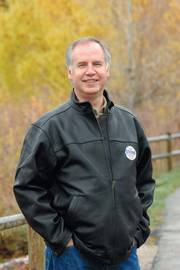 Steamboat Springs — Routt County commissioner candidates Diane Mitsch Bush, a Democrat, and Paul Strong, a Republican, remember their first days in Steamboat Springs well.
Mitsch Bush came to the Yampa Valley from St. Paul, Minn., in October 1976. She got settled in time for a winter of deep snow.
"I'll never forget the first day I skied powder on Tornado," Mitsch Bush said Monday, referring to a ski run at the Steamboat Ski Area. "Oh, man. I loved it. I still love it. Politics and powder skiing - those are my passions."
Mitsch Bush, a retired sociology professor, said she bought her first house in Routt County for $39,000.
In 1990, Republican Paul Strong decided to leave his Chicago job as second vice president of the Chase Manhattan Futures Corp. He pointed his car toward the Rocky Mountains and found a home in Steamboat.
Strong found a home in the colloquial sense, at least. Finding an actual place to live proved difficult.
"I would stand outside this building in the morning and wait for the newspaper so I would be the first one to see the classifieds," Strong said Wednesday in his Lincoln Avenue office in the Old Pilot Building, former home of the Steamboat Pilot & Today. "I'd run across the street and call, but every place would already be taken."
Strong finally landed a residence by placing his own advertisement in the paper, touting his status as a mature, 32-year-old professional.
Now a certified public accountant, Strong spent his first winter in Steamboat working at a restaurant in the Thunderhead Lodge.
"That was one of the best years I've had here," Strong said. "I skied all the time."
Since their first years in Steamboat, Strong and Mitsch Bush - two former ski bums - have compiled lengthy records of public service.
Mitsch Bush has served on the Routt County Planning Commission since 1996. For the past nine years, fellow commission members have elected her to serve as vice chairwoman.
Strong has served on the Steamboat Springs City Council since 2000. Fellow council members elected him council president from 2003 to 2005.
Similarities aside, Strong and Mitsch Bush differ in their visions and strategies for Routt County's future.
Growth spurt
When asked about issues facing Routt County, both candidates put growth at the top of the list.
"We will face a tsunami of growth," Mitsch Bush said. "I will fight against sprawl."
In 1996, Routt County voters approved a property tax to allow the county to purchase development rights on agricultural lands. Mitsch Bush was an active lobbyer for the "PDR" program and served on its advisory board in the mid- to late 1990s. In 2005, county voters approved the PDR tax for 10 more years.
"I see that as a great victory and as a great comment on what the people of Routt County value," Mitsch Bush said. "We've protected a heck of a lot of land."
Strong acknowledged the perception that he represents pro-business interests in his candidacy for commissioner - especially given his service on a City Council that many see as divided.
"I think that stereotype is not completely accurate," Strong said. "I think there's a basis for it, but I also think I'm pretty moderate. What I am is a 'pro rule-of-law' guy. If people meet the development codes, they should be allowed to build."
Strong is involved with agricultural interests as well. He is a member of the Yampa/White Basin Roundtable, one of nine groups established to guide future water policy across the state.
"There's nothing more important than keeping water in the Yampa Valley," Strong said at a recent agricultural forum.
At the same forum, Strong said: "County commissioners can't do a lot about water." Mitsch Bush countered by noting that, as managers of Phippsburg's water system, the commissioners can establish a water right for the county to protect against future diversions.
"We will have a big standing in any water decision," Mitsch Bush said.
Managing money
Mitsch Bush describes Routt County's three commissioners as "the CEOs of our county."
The description is apt; serving as commissioner includes managing at least 25 departments, overseeing unincorporated areas such as Phippsburg, Milner and much of North Routt, and allocating a budget projected to total $78 million in revenues and reserves next year.
Deciding how to spend county dollars determines the future of county services such as road and bridge maintenance, the Routt County Sheriff's Office, human services and environmental health.
Strong, a self-described fiscal conservative, said his experience as an accountant would be invaluable to protecting and using taxpayer dollars.
"I really think I'm the only candidate with the financial experience to deal with that," Strong said.
Mitsch Bush said her experience as a county planner gives her in-depth knowledge of county issues and regulations.
Strong and Mitsch Bush disagree on how to manage the more than $25 million in the county's projected 2007 reserves.
At a public forum in North Routt County, Strong said, "The county's reserves are too high" and should enable some increased spending. At Monday's forum sponsored by the Routt County League of Women Voters, Strong said he would advocate immediately purchasing wildfire equipment to prepare for future outbreaks.
At both forums, Mitsch Bush said all of the county's reserves are "earmarked" for future spending in areas such as equipment replacement and as protection should Routt County's booming real estate bubble burst.
"What if there's a slump?" Mitsch Bush said, citing property and building use taxes that feed county finances. "It's crucial for us to save these reserves."
Crossing lines
Both candidates have support from colleagues, regardless of political affiliation.
"I respect Paul's attitude about city government. He has always been willing to listen, and he's also ready to give his own ideas," said Steamboat resident Mike Forney, a member of Yampa Valley Regional Airport Commission and chairman of Routt County United Way. "I think he would be an excellent county commissioner. The crazy part about this is that I'm a Democrat."
Mitsch Bush also can cross party lines.
"Diane is really dedicated - she absolutely does her homework, always, on the Planning Commission. She has the highest personal integrity of anybody I've ever encountered," said Colorado Mountain College professor Terry Hunter, director of the college's resort management department and a member of the county Planning Commission. "I'm a Republican, and Diane knows that. She and I definitely differ a lot on our opinion on things, but I never question Diane's motivations. She does her job over her personal beliefs."
Troy Brookshire, a Realtor with Colorado Group Realty and former chairman of the county Planning Commission, echoed Hunter's sentiments.
"(Mitsch Bush) is a professional. She was probably more prepared for meetings than any other member that served on that commission," Brookshire said. "It's from the bottom-up, not from the top-down, with Diane. I don't think she has an agenda - you don't find that much anymore."
City Council member Loui Antonucci praised Strong's work on the council, especially as its president.
"I thought Paul did a tremendous job running the meetings and controlling those meetings. When you get a roomful of 100 people, it can really be a handful," Antonucci said. "I think there will be a loss to the city if he does get elected, but I think the county as a whole will benefit."