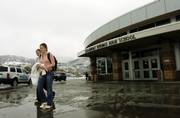 Steamboat Springs — Police are investigating a bomb threat found Friday in a bathroom at Steamboat Springs High School.
At about 7 a.m. Friday, Principal Mike Knezevich found a statement involving a bomb threat written in one of the bathrooms. The threat was for the end of next week.
Superintendent Donna Howell said the school district responded quickly to the threat.
"You can never take anything lightly," Howell said. "We are really taking this quite seriously."
Students were informed of the threat Friday morning, and Howell said the school was sending a letter home to parents.
"At this point we aren't giving any more information," Howell said.
Two police officers were at the high school Friday conducting an investigation and interviewing students, Steamboat Springs police Capt. Joel Rae said.
"I'm not releasing the details of what the threat was specifically," Rae said. "We don't want to compromise the investigation taking place right now."
The police department did not believe there was a safety threat at the high school Friday, which is why the school was not closed, Rae said.
But that did not stop "a number of kids" from leaving school Friday. Rae did not have specific numbers.
"We are continuing as normal as we can continue," Knezevich said. "We are very aware and available for kids or parents if they have questions."
Investigators are looking into the last time the bathroom was used. Knezevich would not identify which bathroom the message was discovered in.
Police are investigating a time frame between Thursday afternoon and 7 a.m. Friday. There are no surveillance cameras at the bathroom's entrance.
The high school hosted volleyball matches Thursday night between Steamboat and Battle Mountain, which is based in Eagle-Vail. Knezevich said those matches started at 4:30 p.m. and ended at approximately 9 p.m.
There is a possibility that the person who made the threat is not associated with the high school, Rae said.
There have been no bomb threats at any other district building or school, Howell said.
Recent violence on school campuses in Colorado and elsewhere has focused attention on school safety.
"The bottom line," Rae said, "is we have to take this seriously and do everything."
Anyone with information is encouraged to call Routt County Crime Stoppers at 870-6226.