Election 2006
More Election 2006 stories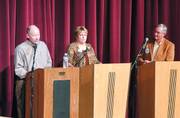 Steamboat Springs — After 18 years in the Routt County Assessor's Office, Amy Williams is stepping down. And there are three people eager to fill her position.
Democrat Mike Kerrigan, the chief appraiser in the Assessor's Office; Republican Richard "Dick" Klumker, a former pilot; and independent candidate Nancy Terry, an appraiser in the private sector, are squaring off in a race for a position that will pay about $59,00 a year.
The Assessor's Office is tasked with valuing all property in Routt County so property owners pay their fair share to each of the taxing districts. Williams, who has been assessor for the past 14 years, chose not to run for re-election and plans to work in the private sector as an appraiser.
"The biggest challenge the next assessor will face is more growth," Williams said. And that person should come armed with skills in computers, appraising, personnel management and "the ability to handle confrontation," she said.
The assessor uses mass appraisals to determine the value of individual properties. Sometimes, property owners think the Assessor's Office overvalues their property, which can lead to the confrontations Williams referred to.
Mike Kerrigan
Kerrigan, 46, is the chief appraiser in the Routt County Assessor's Office. He supervises staff and does all commercial property appraisals.
With 12 years experience in various assessor's offices, Kerrigan said he is the most experienced candidate. He worked in the Lake County Assessor's Office for six years as a staff appraiser, deputy appraiser and chief appraiser. He started working for Routt County in August 2001.
"I know the staff, I know the commissioners, I'm familiar with the budget process and I have a good working relationship with the people that depend on our data," Kerrigan said. "If I'm elected, I think voters can anticipate a smooth transition."
A smooth transition is needed, he said, because the county is in the midst of conducting reappraisals.
"There are working relationships that are functioning very well," Kerrigan said. "If someone else is elected, the voters risk going through a difficult transition."
The office also is about to undertake another technology upgrade, which will update its database. Kerrigan said another one of his strengths is experience with the computer system.
In the past six years, Kerrigan said the workload at the Assessor's Office has doubled, with each appraiser now responsible for 3,300 parcels.
"The only way to handle that is by working harder, faster and smarter," Kerrigan said.
He said he decided to run for assessor after Williams announced she was leaving the office.
"As a staff, we were concerned," Kerrigan said. "Nobody really came forward to take a stab at it. I think this county has a high expectation, and I think I can meet that expectation."
Kerrigan also is a Steamboat Springs Winter Sports Club coach, and he said he plans to continue coaching if elected.
Dick Klumker
Republican Dick Klumker, 64, admits he does not have the appraisal experience of his opponents, but the fifth-generation Routt County resident said his experience as a manager and a supervisor as well as his historical knowledge of the county makes him best suited for the job.
"I wanted to bring something to the community," said Klumker, who was an airline pilot for 36 years. "I'm a very strong property rights person."
Klumker has never been an appraiser, but he said he is enrolled in an appraisal course to get his certification. He plans to have at least the written portion of the certification completed by the Nov. 7 election, he said.
Klumker said his management style would be "well disciplined" and that he would use staff expertise to solve problems.
"You can use their technical expertise with the people in the office to make sure things are done right, but (as assessor) you have to direct the orchestra," Klumker said.
He said he would work toward using technology that would allow the office to appraise properties individually. He also would work toward "getting the public to understand that they're more than welcome to come in (to the office)."
He was born in Steamboat Springs and raised on a ranch near Toponas. He has traveled extensively because of his job as a pilot, but he has lived in Routt County most of his life.
"I do think that's one of my greatest strengths," he said. "There is a lot of history that goes back, and that's what makes me comfortable with the county."
Although retired from his piloting career, Klumker drives trucks for a gravel company and is a flight instructor. He said he would continue work as a part-time flight instructor if elected.
Nancy Terry
Nancy Terry, 57, has appraiser experience in the public and private sectors. An independent candidate, Terry said her campaign has been difficult because she does not have the backing of a political party.
She emphasized how the role of the assessor should be nonpartisan, and with her experience she believes she can be fair to everyone and respectful of property owners.
"I have better knowledge and expertise, and I want to share that with the county," Terry said. "I have both public appraisal and private appraisal experience that will help to allow me to solve problems."
For the past six years she has appraised various types of property for Valuation Consultants in Steamboat. She said she would resign from that position if elected and that she would not do private appraisals in Routt County.
Terry decided to run for assessor after she heard that "Amy was stepping down and no one qualified was stepping up."
"It's simply been an opportunity to take stock and review what I'm interested in and where can I use my talents," she said. "It's a good fit."
Before becoming a private appraiser, Terry worked in the Routt County Assessor's Office as a residential, commercial and chief appraiser.
As the assessor, she said she would continue to improve accuracy of the facts used to value property.
Another one of her goals is to eliminate the automatic denial of appeals by property owners who disagree with how their property was valued. Although she spoke highly of Williams and her time working in the Assessor's Office, Terry said the automatic denial of appeals is "reflective of how people are treated."
"So much of the Assessor's Office works really well, and I think one thing is dealing with owners who disagree with value," Terry said.