Staying fit with Chris Voyvodic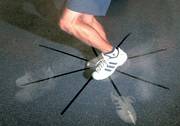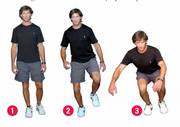 At Home
The countdown to the ski season is on. Skiers and riders can't hit the slopes without the snow, a pass or the proper gear, but personal trainer Chris Voyvodic reminds powderhounds not to neglect their bodies, either.
Ski conditioning is a wise way to prepare the muscles for the unique sports of skiing and snowboarding. Those not interested in enrolling in classes with experts can do several exercises at home with a Warren Miller film rolling in the background.
"Squats and lunges are the keystone to everything," Voyvodic said.
Consequently, his recommended exercises focus on increasing leg strength and balance.
Voyvodic is a personal trainer and class instructor at the Old Town Hot Springs, formerly known as the Steamboat Springs Health and Recreation Center.
One of Voyvodic's favorite exercises is called the star pattern. It's easy to make but difficult to perform. Master the star, and your legs will be ready for the slopes.
First, stand in the star's center on one leg. Hold the other leg slightly in the air. Second, hop on that one leg straight out to the end of one of the star lines. Third, squat down, with arms out and the other leg still slightly off the ground.
"Focus on the hip, not the knee," Voyvodic said. "It's like sitting in a chair."
Stand up and hop back to the starting point to complete the exercise. Repeat, hitting each star line, and then switch legs. When hopping at an angle, pivot the hips and thighs to simulate the skiing motion.
"You are trying to load up our hip from different angles," Voyvodic said. "This exercise is for balance and power."
Before starting any ski conditioning exercise or class, Voyvodic suggests checking your ankle mobility. If your ankle mobility isn't good, you likely will perform the exercise wrong, and lower back and knees may experience pain.