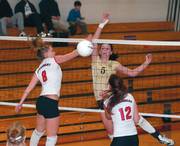 20-year tradition
Before the start of Thursday's match, Steamboat Springs athletics director Richard Lee presented head volleyball coach Wendy Hall with a framed certificate honoring her 20 years of coaching and impact on the lives of countless student-athletes. Hall's players then presented her with bouquets of flowers, a signed, gold volleyball and plenty of hugs.
"I knew they were going to do the parents and the seniors stuff, but I was so shocked - blown away," Hall said afterward.
The team's three graduating seniors - Haley Morris, Shannon King and Erin Gleason presented Hall with unique assortments of 20 small gifts.
"I felt like I was going to cry the entire game," King said after the loss.
Inviting friends and fans for festivities in a decorated locker room, the senior players shared hugs and tears.
Battle Mountain coach Brian Doyon beamed about the phenomenal job Hall has done with the Steamboat program and developing younger talent - quite a compliment considering Hall said she tells her players to use Doyon's team as a model.
Steamboat Springs — Many of the girls on Steamboat Springs' volleyball team started their match Thursday night against Battle Mountain while choking back tears.
The start of the game - the Sailors' last home appearance of the season - was marked by a brief ceremony recognizing the team's seniors, their parents and coach Wendy Hall's 20 years coaching for Steamboat.
After showering Hall with gifts, flowers and hugs, the three Steamboat seniors brought their emotions to the court.
Unfortunately for Steam-boat, it was the seniors on the Battle Mountain side of the net who stole the show.
The Huskies proved why they're in the Western Slope League's top spot (13-0) by beating the Sailors in three games, 25-12, 25-10, 25-9.
"We came out with our 'A' game," Huskies senior setter Britney Brown said.
The Huskies quickly took a 6-0 lead in the first game behind a trio of kills from Nicole Penwill.
"I think we got a little spooked instead of trusting that we know how to handle them," Hall said about her team.
Steamboat continued to struggle early with its serve-receive, scrambling for Battle Mountain's effective arsenal of serves from Penwill and Sofia Lindroth. Steamboat mounted a brief run, bringing the game as close as 16-11 on a Lizzie Stoll and Katy Gary kills. But Battle Mountain capitalized on Steamboat's errors, and Penwill stole the show with six kills in the game. She finished the match with 11 kills, five blocks and five aces.
Battle Mountain jumped to another early lead in the second game. A kill from Natalie Nichols, an ace from Haley Morris and a pair of kills from Erin Gleason brought the Sailors to within 12-8, but Steamboat's rally ended there.
The teams were tied at four in the third game before the Huskies pulled away with a 13-point Penwill serving streak. Steamboat sophomore Maggie Kriz's block sparked a late three-point run, but the Sailors couldn't recover and lost, 25-9.
"They were a fun team to play, digging the ball and passing well," Battle Mountain's Devon Abbott said.
Now at 6-7 in league play, the Sailors must win their final regular season game Saturday at Eagle Valley if they hope to lock up a district playoff berth.
- To reach Dave Shively, call 871-4253 or e-mail dshively@steamboatpilot.com