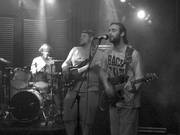 Past Event
Friday, October 20, 2006, 10 p.m.
Mahogany Ridge Brewery & Grill, 435 Lincoln Ave., Steamboat Springs
21+ / Free
With the jam band trend fading, Yamn is doing its best to shed the image formed by the likes of jam-band heavyweight Phish.
"The scene is just getting too bitter with Phish and the big bands," said Ryan Ebarb, Yamn's keyboardist. "They blew up, and the whole scene was modeled after them, and everyone automatically associates you with those jam bands."
Now, many young bands are finding it difficult to emerge from the hole left by preceding jam bands and the stereotypes associated with that style of music, Ebarb said.
"You don't want to be classified as (jam band) before anybody's heard you yet."
Yamn was formed in Lubbock, Texas, in 2002 under the name "One Big Groove." Band members changed the name to Yamn upon their move to Breckenridge. They moved to Denver two months ago.
"We're moving in a new direction again by getting more progressive with it and doing more electronic stuff," Ebarb said. "But we are jam-bandish with psychedelic rock and jazz infusion."
On its Web site, Yamn says it is demonstrating the ability to breed a new monster in music.
"It's a monster in the closet, and it scares you," Ebarb said. "Because the sound is pretty loud for four people."
Band members are more focused on developing their musical sound than their lyrics.
"We are very tentative about singing and are just kind of slowly working our way into it," Ebarb said. "We are still learning our instruments and will get to singing one of these days."
Ebarb and his bandmates - Brian Hamilton, Adam Ebensberger and Kyle Stewart - quit their jobs when they moved to Denver to fully commit to their music.
"We've just been bouncing around, not on any lengthy tours - just a monthlong so far," Ebarb said. "Now we are going on the road indefinitely for a few months. And every few weeks, we will go through the mountain towns."