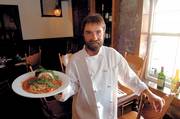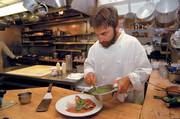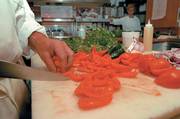 At Home
Paul "Rocky" LeBrun has a theory about nicknames.
"Everybody gets a nickname, and you only get one," LeBrun said. "You just do something really dumb - that's how you get it."
LeBrun got his nickname in 1981, the winter he moved to Steamboat Springs. His skiing style - he liked to drop from rock to rock - reminded some of the squirrel in the cartoon "Rocky and Bullwinkle." He said he also wore a hooded sweatshirt a lot, a la Sylvester Stallone in the Rocky movies.
These days, "Rocky" is the chef and co-owner of Antares. It's a long way from his first kitchen job as a 15-year-old dishwasher in Newton, Mass.
"Through dirty pots and pans, I would sit and watch the chef flipping eggs in the pan without breaking a yoke," he said. "I had to learn how to do that."
LeBrun decided he wanted to know more about what was going on inside of the pot.
LeBrun attended the Culinary Institute of America in Hyde Park, N.Y. He then went to work at the Chanticleer Restaurant in Nantucket, where President Nixon and Jackie O. used to dine.
"I learned what the elite liked to eat and drink," LeBrun said. "We had one of the top ten wine lists in the world. Our wine list was phenomenal."
LeBrun creates a flawless presentation on the plate, but he also knows the right wine to go with it, Antares co-owner Diane Zahradnik said. "He is a perfectionist, and everyone has to work with that. He brings other people up to his standard."
LeBrun is a good guy to have around during those polar opposite moments in the restaurant business.
"He's fun to work with because he keeps his sense of humor in the whole thing, when it is too busy or not busy enough," Zahradnik said.
LeBrun typically keeps a large bottle of champagne in his kitchen to collect money for end of the season road trips for the kitchen staff.
"People put in money as they are cleaning up or if they come in late, there is a cash penalty," he said. "If someone leaves early, comes in hung over or has someone cover their station, they have to put in more money."
LeBrun also designed his kitchen so that nobody can get away from him.
"They can't leave without asking," he said. "I designed it with one way out so they have to go by me to get out."
LeBrun's work ethic is one of his most notable qualities.
"He does his job and helps me with mine," Zahradnik said. "He doesn't just come in at 2 p.m. and leave at 10 p.m. He does his work and he does it all, whatever it takes."
Except for lunch shifts. In the twelve years, Zahradnik and LeBrun have owned Antares, they have never been open for lunch. When asked why not, LeBrun seemed offended.
"Why not? Are you crazy?" he asked. "I gotta hike, kayak, mountain bike and ride my motorcycle around - so there's no lunches. Lunch is crazy. I live to recreate."
Halibut Cinqueterra
Ingredients
1 12 pounds Halibut
10 medium Roma tomatoes
1 large red onion
4 oz peanut oil
1 cup chopped scallions
1 tbsp chopped oregano
1 cup cilantro (packed)
2 tbsp lemon juice
2 oz lemon juice
2 oz olive oil
2 oz water
salt and pepper
1 tbsp sugar
1 tbsp chopped garlic
2 cups Panko breadcrumbs
Prep Tomato Sauce
Cut Romas in half and remove seeds. Peel onions, chop to large dice. Place tomato in a large bowl with onions. Add salt and pepper to taste and 2 oz peanut oil, then toss.
Cook on hot grill for 4 minutes, while constantly turning or until the tomatoes are soft. When done, place tomato and onions in food processor and pulse to a coarse puree. While in the processor, add butter and oregano.
Prep Cilantro Coulis
In a blender, place garlic, lemon juice, sugar, cilantro, olive oil and water. Blend to a smooth puree. Add salt and pepper to taste.
Plating the Fish
Place the tomato sauce on the bottom of a warm plate. Place the halibut on the tomato sauce and the cilantro coulis on top of the halibut.
Prep and Cooking of the Halibut
Cut halibut into four equal portions, brush fish with peanut oil. Combine the breadcrumbs with the scallions and then press the fish into the breadcrumbs. Preheat a heavy black skillet to medium-high heat. Put 2 oz of the peanut oil in the pan. Place the halibut in the pan, crumb side down. Cook for 2 minutes on each side or until the flesh turns white.