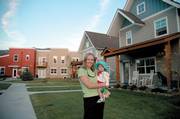 At Home
In building the River Place and Butcherknife co-housing communities, Rob Dick said his intent was to create communities, not just neighborhoods.
In neighborhoods, people can pull their cars into garages and walk inside their homes without acknowledging their neighbors. Often, neighbors don't know one another and don't have to interact.
In a community, interaction is not only welcome, it's necessary.
"Without exception, people really enjoy living here," said Dick, who along with former Routt County Planning Department director Ellen Hoj, developed the two co-housing communities in Steamboat Springs. "The best thing about both of these projects is you really get to know your neighbor."
The Ruppel family moved to Steamboat Springs in May from their 4,200-square-foot home in Acworth, Ga., and started their new lives in a 2,000-square-foot, three-bedroom home in River Place. Behind their house is a large open field with the Yampa River just a couple of hundred yards away. They have unobstructed views of Emerald Mountain and the ski area.
Dave Ruppel is a retired Navy helicopter pilot who manages the Yampa Valley Regional Airport. Jill is raising their four kids, Zach, 17, Lexie, 15, Maddie, 10, and Frank, 8. The family lived in nine places during Dave's 23 years of service in the Navy before one more move to River Place along the east Steamboat U.S. Highway 40 corridor.
"It feels like home," Jill said.
The Ruppels are a close-knit family that still feels having dinner together is important. Jill said the River Place residents made them feel welcome.
"We came in with a big crew, and it was real nice how they opened up to us," she said. "We are not packing up any time soon."
Children and adult bikes are scattered about the courtyard, which is at the center of the community. The location of the courtyard and design of the sidewalks was quite intentional. From the parking area, you have to walk through the courtyard to get to the homes. Residents wave or stop to talk to each other about their lives.
"You in essence are forced to know your neighbors," said Dick Crawford, who lives at River Place with his wife, Kathy Crawford, who also helped develop the community.
The couple moved to River Place from their large Strawberry Park home as a way of scaling back.
"I feel like I'm on vacation," Dick said.
The co-housing concept originated in Denmark during the 1960s. Butcherknife was Dick's first project. The 10 homes in Butcherknife are in a meadow between Steamboat Springs High School and the middle school. That project was completed in 2000.
The meetings for River Place began in fall 2001. A number of families were involved in the initial phases, helping to design the homes and establish the groundwork for the intentional community. Through the years, participants in the project changed.
The houses were finished earlier this year, and families began moving in. The response has been overwhelmingly positive.
"The biggest issue we're dealing with is the dog population," Dick joked.
There are more than 10 dogs living in the 12 single-family and six live-work townhomes at River Place, which has a Victorian look with modern touches. Maddie Ruppel identified a need in the community and started a dog-sitting service.
River Place was designed by many of the owners who committed to buying into the community early on. Many still live there.
"The goal was to create a community that working people could afford," said Dick, who has been one of Steamboat's leading affordable housing advocates and was once executive director of the Regional Affordable Living Foundation.
River Place is managed by the owners. That keeps the complex expenses down, but it also keeps the residents involved in decision-making.
The residents started moving into River Place about a year and a half ago.
Besides the physical design of River Place, there also is a common building, which is a core component of the co-housing concept.
The River Place community center encourages people to get to know one another and socialize.
In the community center, there are two seating areas, two guest rooms, a kitchen, exercise room, a pool table and other games. Parties and social gatherings are held there.
"The community center gets used a lot," Dick said.
The community center made the transition to a smaller home easier for the Ruppel family.
"You have common things that everyone uses," Dave Ruppel said. "It's like the basement we gave up."