Scott Stanford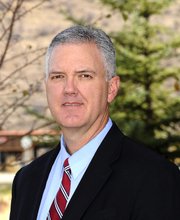 Scott Stanford is general manager of the Steamboat Pilot & Today. Call him at 970-871-4202 or email
sstanford@SteamboatToday.com
Election night 2000 was one of those events that makes you appreciate being in journalism.
I went to work thinking the presidential election would be over by 9 p.m., and George W. Bush would win. I had learned that no matter how much I wanted to be surprised on election night, I usually wasn't.
We wound up sending three different front pages of the Corpus Christi Caller-Times to the press that night. I remember publisher Larry Rose telling us to savor it - presidential elections like that happen once in a lifetime, if ever.
Too often, elections are highly predictable. Candidates from both parties follow similar scripts. Factors such as incumbency, money, charisma and party affiliation have too much impact on the outcome.
The election for Routt County sheriff is a refreshing departure from that trend. Appreciate it - races like this don't happen very often, particularly at the county level.
I have wondered why we elect a sheriff (or a county clerk, assessor or coroner for that matter). Maybe doing so sounded like a good idea when this stuff was set up more than 100 years ago, but I'm not convinced that we wouldn't be better served letting a qualified committee interview applicants and pick somebody to be sheriff. Seems to work well in the police department.
That said, I have been impressed with the very distinct lines drawn in our sheriff's race.
I've gotten calls this week asking when we were going to get "the mudslinging sheriff's race" off the front page and spotlight some of the other races. My response was simple - there just isn't a race on the ballot that is as intriguing as this one. And it gets more intriguing all the time.
I know Republican Garrett Wiggins and Democrat Gary Wall would disagree, but I don't think it would be fair to call what we have seen in this campaign "mudslinging." The candidates have been hard on one another, but their criticisms have been fair game.
Most impressively, they have laid out distinctly different philosophies for voters. It's great that we're having frank debates about the merits of GRAMNET and the best way to handle minor in possession charges and that we're arguing over what's more important - experience as a police chief in the 1970s or current experience as an officer?
Wall has authorized us to review his employment records and talked frankly about mistakes in his past. Wiggins let one of our reporters view his personnel files Wednesday, and he has admitted to a reprimand early in his career that we likely would never have discovered otherwise.
I have no feel for how this race will turn out. There is no result that will surprise me. And I've talked to a lot of others who are equally stymied.
But you have to hand it to Wall and Wiggins. They've bared their souls to become the next sheriff. It's a truly thought-provoking campaign, a campaign that has me considering like never before the attributes that are important in choosing a sheriff.
Hey, it may not be Bush-Gore, but I'm going to savor watching this sheriff's race. They aren't always this good