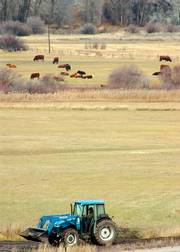 Election 2006
More Election 2006 stories
If you go
What: "Keeping the Ag in Agriculture," a Northwest Colorado forum featuring U.S. Sen. Ken Salazar
When: 1 to 5:30 p.m. Friday
Where: Centennial Hall, 124 10th St.
Contact: The event is free, but call 879-0825 to pre-register or for more information
Steamboat Springs — Northwest Colorado residents will get a second chance this week to get together and talk about the changing face of local agriculture and ranching.
U.S. Sen. Ken Salazar is the featured speaker at Friday's regional forum titled "Keeping the Ag in Agriculture." Salazar is scheduled to speak at 2 p.m. at Centennial Hall in downtown Steamboat Springs.
The regional event comes on the heels of Saturday's agricultural forum featuring local political candidates. That forum was sponsored by the Community Agriculture Alliance, Routt County CattleWomen and Routt County Cattlemen.
C.J. Mucklow, director of the Routt County Cooperative Ex-tension Office, is hosting Friday's event and said it offers a rare and valuable chance to speak with Salazar, a member of the Senate's Agriculture Committee.
Salazar has spent much of October traveling Colorado to conduct "listening sessions" with farmers and ranchers before returning to Washington, D.C., and beginning Senate debate on the 2007 Farm Bill.
"Hundreds of farmers and ranchers gave us input that will help us get provisions in the 2007 reauthorization to bolster family farmers, ranchers and our rural communities," Salazar said in a news release earlier this month. "I am holding these additional listening sessions to learn more from the farmers and ranchers so that I can continue to be a strong voice for rural Colorado as the Senate debates this important legislation."
Salazar has met with farmers and ranchers in Alam-osa, Burlington, Yuma, Sterling, Grand Junction, Adams County, Lamar, Greeley, and Pueblo. He was in Cortez on Monday.
Friday's visit will be preceded by visits in Summit County, Kremmling and Walden. The senator will attend a meeting with members of the Colorado Farm Bureau in Craig after the Steamboat event.
Other speakers scheduled to address Friday's forum in Steamboat include Mucklow; George Kenapec, program manager of the Agriculture and Food Policy Center at Texas A&M University; and Andy Seidl of the Agriculture and Resource Economics Department at Colorado State University in Fort Collins.
Open discussions will follow the speakers.
Ken Salazar's brother, U.S. Rep. John Salazar, a Democrat from Manassa, will attend a campaign fundraiser Saturday evening at the Home Ranch in Clark. Call Lynn Abbott, secretary of the Routt County Democrats, at 870-6673 for more information. John Salazar is running for re-election to Congress in Colorado's Third Congressional District against Republican Scott Tipton, a businessman from Cortez.
- To reach Mike Lawrence, call 871-4203 or e-mail mlawrence@steamboatpilot.com