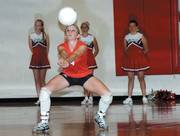 Steamboat Springs — After Moffat County snapped Steamboat's 16-year winning streak in Craig on Sept. 26, Sailors coach Wendy Hall wrote down Tuesday's date in her team's locker room as a reminder for her girls to fix in their minds.
"There was a little extra motivation with the streak," Hall said. "I wrote the date on the board and said it needs to be in the back of their minds, thinking about evening the score every day."
In what Hall thought was her team's most focused and determined effort of the year, Steamboat beat a Moffat team that was unable to match the energy of their previous meeting in four games, 25-20, 23-25, 25-22, 25-18.
With both teams coming into the game at 5-6 in league with two games remaining, both against league-leading Battle Mountain and the talented Eagle Valley squad, Steamboat's gym was buzzing not only with the understood tension of the game's crucial importance for district qualification, but also with the largest crowd Steamboat has seen has all year.
Bleachers packed with Sailors and Bulldogs fans opposing one another, Steamboat jumped to an early lead with a pair of kills from Natalie Nichols, but let Moffat back in the game with the blocking of Amy Dilldine. Moffat crept back into a 23-20 game, capitalizing on a few Steamboat serving errors and a kill from Dilldine, but Steamboat finished strong with an Erin Gleason kill followed by a Lizzie Stoll ace.
Moffat coach Brianna Montgomery said the Bulldogs answered "as the team I know," in game two, coming from behind to tie at 12 on a Markie Workman kill with blocking help from Dilldine.
Then trailing for the latter part of the game, Steamboat re-tied at 23 with a block and kill from Gleason, but could not complete their own comeback, falling 23-25.
Moffat began losing their momentum in the third game, when after keeping the game close to an 18-point tie, they began to loose the blocking battle as Steamboat's Katy Gary turned up her hitting with five kills in the third game, leading her team with 14 on the night.
"It's the best feeling - we came out and did what we needed to do," Gary said.
Game four was the night's most lopsided game. Dilldine's trio of kills and the Moffat fans' protest of a series of close officiated calls could do nothing to prevent their own miscues and to match Steamboat's more balanced and consistent play.
"That's the most charismatic we've played," said Gleason, who had a season-high 10 kills, as her teamed spilled from their locker room, giddy after the redeeming win.
"We haven't had that atmosphere in this gym in a while, giving them something to cheer about," Hall said. "It's something we haven't tasted enough."
Hall hoped the victory would give her team the inspirational fire it needs to take on Battle Mountain in their final home game of the season, 6:30 p.m. on Thursday.
Now at 6-6 in league, the Sailors need a key seventh win in their final two games of the regular season to ensure their qualifying spot at districts.