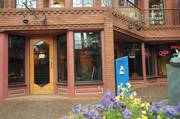 Steamboat Springs — It appears a downtown coffee shop will not be returning, at least not as Mocha Molly's.
A "For Rent" sign is now posted beside the "closed until further notice" sign in the front window of the 1,300-square-foot space in Old Town Square, 635 Lincoln Ave.
The owner of Mocha Molly's closed the shop in July, and there was a new owner planning to buy the business and reopen the popular coffee shop. A closing date was set for August, but the sale fell through, and the space has been vacant since. The former owner sold off some of the equipment and moved from Steamboat Springs.
Old Town Square is managed by Resort Development Group, a Breckenridge-based company owned by commercial developer Reggie Gray. The quaint outdoor commercial center is the only commercial property Gray owns in Steamboat.
His assistant, Lori Haugan, helps manage Old Town Square and said the Mocha Molly's lease was up and the owner, Gerri Nappa, chose not to renew it.
Haugan said no one has signed a lease yet.
Haugan said there has been a lot of interest in the space, including someone thinking of a business based on a coffee shop concept.
"I would think a savvy business owner would want to get in there by the holiday season," she said.