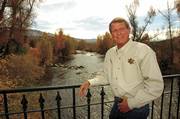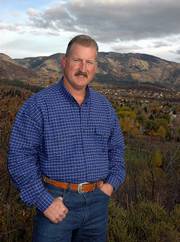 Routt County voting centers
Voting centers will be open from 7 a.m. to 7 p.m. on Election Day, Nov. 7. Voters may cast ballots at any of the locations.
Steamboat Springs — Another debate, another development in the race for Routt County sheriff.
No bickering or thinly veiled insults occurred at Monday night's political forum, but the two candidates for sheriff again stole the show by sharply disagreeing about the amount of certification training Democratic private investigator Gary Wall would need should he defeat Republican police officer and narcotics investigator Garrett Wiggins in the Nov. 7 election.
The standing-room-only event, hosted by the League of Women Voters of Routt County at Olympian Hall in the Howelsen Lodge, came two days after a Northwest Political Agricultural Forum during which Wall publicly doubted Wiggins' ability to earn a promotion in law enforcement, and Wiggins questioned whether Wall had "half a brain in his head."
Monday's forum was civil. From the start, moderator Mark Fischer set rules limiting speakers to positive comments, and candidates in numerous local and regional races tread lightly on differences with their opponents. The candidates for Routt County commissioner in District 3, Republican Paul Strong and Democrat Diane Mitsch Bush, varied in their responses to a question about the importance of a diverse economy in Routt County.
Mitsch Bush, who has served as vice-chairwoman for the Routt County Planning Commission for nine years, said such diversity is "vital" to the county's future and can be achieved by nurturing current economic engines such as coal mining, ranching and tourism, while also fostering new growth in local manufacturing and technology industries.
Strong, a seven-year member and former president of the Steamboat Springs City Council, addressed the issue with caution.
"I have some concerns when we talk about diversifying our economy," he said, warning that diversification could create a sharply rising population. "That adds to the growth problem."
Strong said "economic gardening" of local businesses is a better policy, naming The Industrial Company, or TIC, as an example.
While Mitsch Bush and Strong shook hands after their debate, the sheriff candidates, who followed them, did not.
A written question submitted by an audience member and read by Fischer asked whether Wall, who has not served in uniform since leaving his job as Vail police chief in 1979, would need to attend an academy to renew his Peace Officer Standards and Training, or POST, certification from the state.
Wall said he would not only have more than a year to renew the certification, but he could also do so through a two-week refresher course or even by petitioning for a waiver from the state.
Wiggins, who is certified, replied that after a three-year lapse in POST certification, full attendance at a state law enforcement academy is required - a process that he said could take "five to six months."
"That is just not true," Wall said.
Section 30-10-501.6 of the Colorado Revised Statutes states that:
"Every person elected or appointed to the office of sheriff for the first time shall attend a minimum of 80 clock hours at a new sheriff training course : (and) obtain basic peace officer certification within one year of taking office. An extension may be granted by the Colorado peace officers standards and training board of up to one year to obtain such certification upon just cause shown."
Thus, if elected, Wall could have up to two years to obtain POST certification.
But doing so could take more than two weeks.
The 2006 POST Manual, on the Web site of Colorado Attorney General John Suthers, states that a basic renewal of POST certification can be obtained by completing "a POST-approved refresher academy, including the law enforcement driving and firearms skills training" or "a skills examination : at a POST test-out site."
According to the manual, a refresher academy requires a minimum of 88 hours for the academic portion, and could require an additional 92 hours for firearms and driving skills training.
Whether renewal could be achieved after a three-year certification lapse was unclear in the manual, which defined an eligible applicant as someone who: "Is not serving and has not served as a peace officer or reserve peace officer for at least six months within the previous three years."