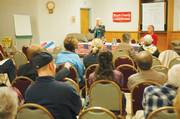 Steamboat Springs — One basic necessity was on the minds of many of the ranchers and others attending the Northwest Colorado Political Agricultural Forum on Saturday night in Steamboat Springs.
"My biggest concern is the water and the diversion of water out of the basin," said Dean Rossi, a South Routt County rancher who relies on the water from the Yampa River for irrigation.
Rossi was one of about 50 people attending the forum held at the Steamboat Spring Community Center.
Ten candidates running in contested races attended the event. They were: sheriff's candidates Gary Wall (D) and Garrett Wiggins (R); county commissioner candidates Diane Mitsch Bush (D) and Paul Strong (R); county assessor candidates Mike Kerrigan (D), Nancy Terry (I) and Dick Klumker (R); and state House District 57 candidates Andy Gold (D), Al White (R).
District three CU Regent candidate Susan Hakanson also attended along with a representative for U.S. House Rep. John Salazar and his opponent Scott Tipton.
Routt County Commissioner Doug Monger spoke for gubernatorial candidate Bill Ritter (D). Representing his opponent, Bob Beauprez (R), was Mesa County Commissioner Janet Rowland, who is running for Lieutenant Governor on the Beauprez ticket.
Routt County district three commissioner candidates Diane Mitsch Bush (D) and Paul Strong (R) both addressed Rossi's concerns relating to water, but they said their roles, as commissioners when it comes to water can be limited.
"I think we need to keep Yampa River water in the Yampa Basin," said Mitsch Bush who has been active in Routt County politics for 18 years and has been on the Routt County Planning Commission since 1996.
"There is nothing more important than keeping water in the Yampa Basin," said Strong, who is serving his second four-year term on the Steamboat Springs City Council and is a member of the Yampa/White Basin Water Roundtable. "It's a community-wide goal and I don't know anyone that wants to see water go out of the Yampa Valley.
Strong, a certified public accountant, emphasized how important preserving agricultural lands is in Routt County, and that a commissioner spends half their time dealing with issues relating to land use.
"Relaxing regulations on ranchers is something we need to do," Strong said.
Mitsch Bush said she work hard to secure grant money for the county and protecting the rural character has been a priority of hers during her years of public service. An example she cited was asking the developers of Marabou Ranch to remove the gated community aspect from the development.
"It sent a message that no one else was welcome," Mitsch Bush said. "Next time it came up (in planning) that gate was gone."
She also said working with the developers of land preservation subdivisions respect their neighbors in terms of how they maintain their property.