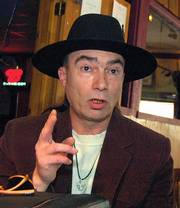 Oak Creek — Jean Paul "The Weatherman" Caouette's perfect day would be sunny with a light breeze, a few puffy clouds and temperatures in the low to mid-70s.
But if Caouette always had his way, he'd be out of a job.
Caouette's job and passion is the weather, particularly predicting the weather and sharing those predictions with family, friends and community members.
Unlike most forecasters, Caouette shares his predictions on 14 "Jean's Out of the Atmosphere" dry erase boards set up around Oak Creek and by calling people or answering phone calls from those looking for a forecast. It's what Caouette calls "weather with a personal touch," and it's not something anyone can do, he said.
"I'm the only weather person in the world you can call anytime who will give you a personal forecast for where you are. If you're stuck somewhere, you can call me and I'll see you through," he said.
It's that personal touch that has landed Caouette a role in an upcoming series on The Weather Channel and possibly a weather spot on Steamboat Springs Channel 17. Caouette also is in the process of writing "Silent Whispers: Voices out of the Atmosphere," a book describing his unique techniques of predicting weather.
Caouette, who has been perfecting his organic techniques since he was a young boy, said he was shocked to hear from a TV producer who wanted to share his story.
An Iroquois Mohawk Native American, Caouette said his fascination with weather began as a child when he would try to figure out what different colored sunrises meant.
"When I was a kid, my parents would get pretty perturbed with me because I'd wake them up at 4:30 a.m. and say, 'You got to see this. The sunrise is so red,'" he said.
Caouette used to get in trouble in school because he would tell his fellow classmates they wouldn't have to come to school on certain days because he knew there was going to be a snowstorm.
His training came from his grandfather, who taught him to read signs in nature and to follow his natural premonitions about the weather. Caouette's time in the U.S. Navy also provided opportunities to learn more about weather, although he still relies mostly on ocean currents, volcanic activity, comets and earthquakes for his forecasts.
When TV producers called him last year to share his knowledge and processes, Caouette said he "couldn't give away all of his secrets, but that he'd tell a little."
"They wanted to talk about champagne powder, so they did a lot of filming in Steamboat Springs, but also a lot in Oak Creek, because this is my base," he said. "They did some filming of me in nature talking to my birds : you couldn't have scripted it any better. The birds were singing, the sun was shining. It was perfect."
The segment will be used in a new The Weather Channel series called "Epic Conditions." The series is produced by Warren Miller Films.
Olivia Ahnemann, a freelance producer with Warren Miller Films, called Caouette "a fascinating character," adding that she is sure he will provide a dose of local flavor to the segment.
"We were looking at different areas of the world that are premiere recreational spots based on weather, climate and geography, so naturally we were looking at how and why Steamboat has become a world-class destination place because of its champagne powder," she said.
Ahnemann learned about Caouette through a mutual friend.
"It was wonderful working with Jean," she said. "What Jean brought to our program was a different look at the weather. Jean has a very organic relationship with the weather in the sense that he lives it and has experienced it through his life. He has learned what different smells mean and what different-looking clouds can mean to predict the weather."
Although Caouette is a not a meteorologist and has never had any formal weather training, Ahnemann said she considers him an expert.
"Jean really does know the local weather. His passion for the weather is fairly remarkable," she said.
Caouette also is talking with Steamboat Springs Channel 17 owner Matt Windt.
"Chances are we'll use him," Windt said. "If we did, he'd be our source of local weather, which is hard to get because Steamboat weather sources and The Weather Channel are always wrong. Weather is the only business where you can be 80 percent wrong and still keep your job."
Caouette said he would welcome the opportunity to expand the number of people he could predict the weather for.
"No matter how gifted you are or how much technology you use, you can never be 100 percent right, but it never hurts to try," he said.
"Epic Conditions," a five-part, 30-minute series, is scheduled to air on The Weather Channel in February 2007. Caouette's segment should be the first episode to air, Ahnemann said.
- To reach Alexis DeLaCruz, call 871-4234 or e-mail adelacruz@steamboatpilot.com