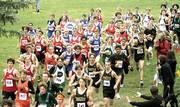 Steamboat Springs — In a preview of the regional cross-country meet, Steamboat Springs' boys and girls teams got their first taste of competition on the grassy, hilly Minturn course, where they will race again next week.
Saturday's Battle Mountain Invitational gave the Sailors a final meet to work out the kinks before making their return for a regional showdown in which the top 15 individual runners and top 40 percent of the teams will qualify for state.
Sailors coach Glen Light said the meet gave them a chance to see where they stand in the Western Slope League. They battled rival Moffat County and top-ranked Battle Mountain, among other teams, Saturday.
The boys team finished fifth out of 11 teams. Battle Mountain won the boys meet, followed by Loveland in second and Moffat County in third.
In rainy, 35-degree weather, Matt Hill once again led the way for the Sailors, finishing seventh overall in 18 minutes and 4 seconds. Charlie Stoddard finished 18th, Sam Chovan was 33rd, Bryce Gordon was 39th, and Lee Wren finished 44th in the field of 64 runners.
The Steamboat girls finished eighth out of 10 teams. Defending state champion Battle Mountain took first place, Moffat County took second and Glenwood placed third. Brittany Long blazed the Sailors' trail, finishing 17th in 23:03. Rachael Caires was 23rd, Anna Anderson was 50th and Alyssa Walter was 51st.
"I'm cautiously optimistic about next week," Light said, adding that he will work on correcting some of his team's pacing mistakes before the regional meet. "We learned a lot. There's definitely some strategy stuff and technique things we need to work on."