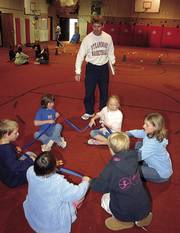 Steamboat Springs — Mea Fisher planted a garden Thursday.
As she and partner Brittany Brown flipped through their laminated green cards, Brittany selected the card with the verb "plant" on it. She then told Mea to plant something.
Mea decided to plant the green cards in a basket.
"They are sweet peas," Mea said, using her imagination.
After reading all the cards and completing the required actions - which included skipping, winking and blinking, Mea and Brittany had to write 10 verbs, or action words, in their composition books.
"It's fun," Mea said about the hands-on activity. "I get to run in class."
The girls did their fair share of jumping around, but most of their language work was done on the floor in a small group independent of teacher instruction.
Welcome to Karen Kutska's first- and second-grade Mon-
tessori room at Strawberry Park Elementary School. The classroom is a wide-open space with tables, rugs and countless language, math and cultural "works," or activity centers.
Kutska's introduction to Montessori was last year, when she was an assistant at the private Yampa Valley Montessori Education Center preschool in Steamboat Springs. Kutska, who earned her teaching license years ago, didn't feel ready to enter the classroom until she discovered Montessori.
"It's based on children, so they are given the freedom to make decisions," Kutska said about the Montessori education method, which was developed by a female Italian doctor a century ago and emphasizes independent, student-initiated learning. "In art, in their free time, the students made a 'work' for our classroom. They are so excited about their education. That's the coolest thing I've seen so far this year."
A 'work' is an interactive lesson students do independently or in small groups. It is how most Montessori instruction functions, but Kutska and upper elementary Montessori teacher Linda Stansbery also have time to give direct instruction to their students.
Stansbery was hired as Steamboat's original Montessori teacher three years ago, but the number of children involved in the public school program prompted her to take over the class of third-, fourth- and fifth-graders this year.
"It's more structured than people think," Stansbery said about Montessori. "The work is checked on the spot, and they have to correct it until it's done right. They quickly learn to do it right the first time."
Stansbery wishes her own children could have gone through a Montessori program. After countless hours of instruction to prepare her to teach the system, Stansbery is now a firm believer in Montessori principles. She had 32 years of teaching in traditional classrooms in Arkansas before moving to Steamboat.
Montessori classes here are offered through the public school system, so students have to take district assessments and state-mandated Colorado Student Assessment Program tests. Stansbery said the Montessori students have performed at the same level or better than their peers in traditional elementary classes.
Because the Montessori program has only two fifth-graders and 14 second-graders this year, there is some concern as to how two Montessori teachers will meet the needs of the growing program. But Kutska and Stansbery will worry about the future only when they have to.
In the meantime, there are children who want papers checked.
"It is a community," Stansbery said.