The hunt is on
Sportsmen prepare for start of big-game rifle seasons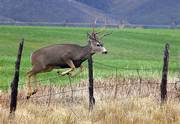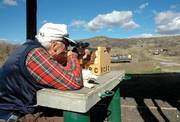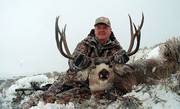 Hunting season information
Hunting season information
First rifle season, separate limited elk, runs through Wednesday. Second rifle season, combined deer and elk, is through Oct. 29. Third rifle season, combined deer and elk, runs Nov. 4 to 10. Fourth rifle season, limited deer and elk, runs Nov. 15 to 19.
Licenses still available
As of Wednesday afternoon, Colorado Division of Wildlife spokesman Randy Hampton said there were many leftover, over-the-counter elk licenses available for the second season in many game management units surrounding Steamboat Springs. The licenses are available for purchase at any licensing agent before the start of the season. Hunters can view license availability and purchase them at http://wildlife.s... or at the Steamboat DOW office, 925 Weiss Drive. Call 870-2197 for more information.
Mandatory safety courses
Hunters born on or after Jan. 1, 1949, must have completed an approved hunter education safety course. One-day crash courses for a temporary, one-year hunter education card will be held Friday and Nov. 3 in Maybell; Thursday, Friday and Nov. 3 in Walden; and Friday, Nov. 3 and Nov. 15 in Rifle. Prior arrangements can be made with the instructors in Walden to earn a permanent hunter education card.
Rifle sight-ins
The Routt County Rifle Club, two miles west of Steamboat Springs on the north side of U.S. Highway 40, will host public sight-ins Thursday, Friday, Saturday and Nov. 2 to 4. The cost is $5 for nonmembers.
OHV access
Check with land management agencies before taking off-highway vehicles into the woods. Firearms on four-wheelers must be unloaded and secured in a case.
The crack of gunshot pounding your eardrums reminds you of two things - big game hunting season is here and you might want to put in some earplugs at the Routt County Rifle Club range.
During a public sight-in at the range Friday, groups of local and visiting hunters made final adjustments to their rifles.
"You just have to double-check, it's long way out here," Seth Trinklein said about his group's haul from Lake of the Ozarks, Mo. Because their gun cases spent much of the trip bouncing around in the back of the truck, they figured they'd better make sure their sights were aligned before heading out into the backcountry. "Ninety-nine percent of the time it will still be on, but it's not worth coming out here to wound something."
Having already set camp with 12 horses in Buffalo Park, Trinklein's crew made the trip into town to prepare for Saturday's official start of first rifle season for elk. That season ends Wednesday.
For New Jersey's Paul Kiessling, the sight-in session was merely a pit stop before heading to a favorite patch of national forest land in North Routt. Accessing the public land near Sand Mountain through the private property of a friend's ranch, Kiessling said he and his group of friends from across the country have used the first rifle season for the past decade as a yearly excuse to get together and try to track down a trophy elk.
Others weren't hoping for a wall ornament so much as a chance to restock their meat supply. Steamboat's Bill Paley was trying out a new rifle, hoping to keep up with his 14-year-old daughter, who bagged a six-by-six-point bull elk on the third day of last year's season.
"We're still eating meat from last year, but there's not much left," Paley said, hoping to find luck on Buffalo Pass in a sport he's learning with his daughter.
Don Holcomb, owner of Circle H Firearms, certainly felt the surge of hunter anticipation during the week.
"I've ordered ammo every day this week. (Wednesday) alone I sold 120 boxes," Holcomb said as he restocked his shelves Thursday.
Holcomb's business should continue to de well considering what many of Steamboat's veteran hunting guides are predicting for this season's big-game yield.
Ray Heid, who has guided hunting trips in the Mount Zirkel Wilderness Area of the Routt National Forest for the past 46 years, said he has seen more large, quality bulls this year than he has in the past four or five years combined.
Heid attributes the success of his guided hunts through Del's Triangle 3 Ranch to total immersion in the wilderness, setting camp two hours by horse from the nearest trailhead and then tracking the game on foot.
"You have to take the first few days to acclimate, get in the element and start thinking like the elk," Heid said.
With combined deer and elk hunting beginning Oct. 21, Dean Billington echoed Heid's advice and had a few pointers of his own for deer and elk hunters.
As owner of the Kremmling-based Bull Basin Guides and Outfitters, Billington said he has hunted every day since the end of August on public land and private ranches from near Oak Creek and Toponas to outside of Craig.
He encourages hunters to set camp a day or two before the season to begin scouting the routes between where the game is bedding during the day - usually in dense timber stands, and where they feed. This prime window of opportunity typically occurs around dawn or dusk in the grassy open areas of high alpine meadows and mountain parks.
"At dawn, we're trying to be in areas where we can glass and catch them in the open feeding areas," Billington said about his routine of waking at 5 a.m. and hiking for an hour to be in position before daybreak.
The probability of capitalizing on these feeding travel routes is largely dependent on the weather staying cold, thus keeping the animals active. Also, hunters should remember not to camp near the feeding and drinking areas of deer and elk.
With the increased hunting pressure on public lands, especially during the opening of the second season, Billington said herds of elk and deer will move into steeper terrain and more inaccessible areas.
"It's easy to be a beneficiary of this movement," Billington said. "If your access points are five to seven big drainages, imagine them like fingers on a hand. Sometimes it's a half an hour stroll over that next ridge that acts as natural barrier of scents and sounds to get into another drainage. We're not asking a guy to climb Mount Everest, but the hunter that gets off the beaten path will be stacking the cards in his favor."
- To reach Dave Shively, call 871-4253
or e-mail dshively@steamboatpilot.com