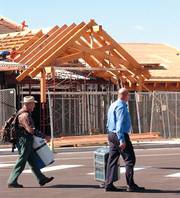 Steamboat Springs — Routt County Finance Director Dan Strnad uses adjectives such as "smoking" and "cooking" when describing action in the local economy.
But Strnad doesn't need to be so descriptive - the numbers do the talking for him.
As Routt County Commissioners and county officials dive into a review of the proposed 2007 county budget, a process that includes a Nov. 21 public hearing and possible adoption on Dec. 12, the numbers show that Routt County is in a nearly unprecedented period of construction, development and growth.
"The economy in Routt County is smoking in relation to construction trades and real estate activity," Strnad wrote in a financial outlook accompanying the draft budget. "Building permit valuation is $85 million through the first quarter of 2006 as compared to $37 million last year during the same period. In addition, clerk and recording fees collected on real estate sales are 11 percent greater than last year, which was a record-setting year."
As a result, county officials have some flexibility to expand spending.
"There is a significant opportunity for Routt County to provide for an increase in compensation and benefits, and new costs in the 2007 budget," Strnad wrote. "But as usual : any budget increases must be prioritized to match those resources."
That prioritization will occur during the next several weeks as commissioners meet with the public and officials in county departments such as Road and Bridge, the Routt County Sheriff's Office, Human Services and Environmental Health to discuss financial needs in the coming year.
Although the proposed budget projects $52.7 million in total 2007 revenues and $65 million in total expenditures - with $25.3 million in projected reserves, Commissioner Nancy Stahoviak said the adopted budget will be much more balanced.
"Dan put all of the requests into the (proposed) budget, which puts our operational expenses over our revenues," Stahoviak said. "At the end, hopefully we'll get to a break-even situation, or very close to that."
Big projects, big spending
Despite the surge in building and real estate funds, projected county revenues in 2007 are $11.5 million lower than the projected 2006 total of about $64 million. This is largely because of the loss of $6.7 million in federal funding for construction of the new terminal at Yampa Valley Regional Airport in Hayden, scheduled for completion in 2007.
Completion of the terminal, and partial completion in 2006 of the new Routt County Justice Center, also will reduce projected expenditures in 2007. County expenses next year should decrease $8.5 million, to $65 million from $73.5 million in 2006.
The airport terminal, justice center and reconstruction of Routt County Road 27, which runs from Oak Creek to U.S. Highway 40 east of Hayden, are having a huge impact on county funding. The three projects are a large part of record-setting "capital" spending for construction.
"This level of capital expenditure has never happened before in the history of the county," Strnad wrote.
Completion of the $13.4 million justice center is scheduled for September 2007. Annual operating and security costs for the center are expected to reach nearly $400,000.
Tuesday at the Routt County Courthouse Annex, Strnad said increasing caseloads for the Routt County Jail and Sheriff's Office will require more spending in 2007.
The 2006 jail budget was based on managing 35 inmates a day, Strnad said. The 2007 budget will allow for 50 inmates a day.
"I think we really need to talk about how much security we'll need in the new (justice) center," Stahoviak said.
In the bank
Rising costs at the justice center are an example of why commissioners and Strnad say the county needs all of its $25.3 million in projected reserves, despite criticism of the amount from some Routt County residents.
At a Sept. 29 political forum, North Routt resident Fred Wolf asked the two candidates for county commissioner, Democrat Diane Mitsch Bush and Republican Paul Strong, why Routt County "collected $8 million more than it spent" in 2005. Wolf called holding onto such large savings "fiscally irresponsible."
Strong, a member of the Steamboat Springs City Council and a certified accountant, agreed with Wolf and said, "The county's reserves are too high."
Mitsch Bush, vice chairwoman of the Routt County Planning Commission for the past nine years, said all of the county's reserves are "earmarked" for future spending.
In discussing the 2007 budget, Strnad agreed with Mitsch Bush.
"We've got plenty of spaces to spend the reserves," Strnad said. "And we have a very good idea of how we're going to spend that money."
In the financial outlook, Strnad wrote, "Fuel and energy costs are at all-time highs and will impact every department in some form or another."
Stahoviak said much of the reserves are held for the future replacement of county equipment.
"We've had discussions about the fund balance," Stahoviak said. "But the bottom line is, no matter how you do it, you're going to need operating revenues to replace equipment."
Stahoviak said she hopes the public discussions continue about the county budget.
"We want people to know what we're doing, and we want them involved in the conversation," Stahoviak said.
Strnad, Stahoviak and commissioners Doug Monger and Dan Ellison are scheduled to conduct an all-day budget work session Tuesday.