Soda Creek plans
Take a look at designs for rebuilding Soda Creek Elementary School.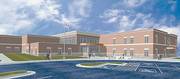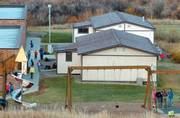 Soda Creek Elementary School is 51 years old. Strawberry Park Elementary School is too small for its existing and future enrollments.
Those are simply the realities, Steamboat Springs School District officials say. Whether anything happens to either building is now in the hands of the voters who live within the school district's boundaries.
Referendum 3D, which will appear on the Nov. 7 ballot, is a $29.7 million bond initiative to rebuild Soda Creek and renovate and expand Strawberry Park.
"It's pretty black and white," Steamboat Springs Education Association president Brad Kindred said last week. "We support the bond because we know we need to replace (Soda Creek). We don't care where we put it. We just need it."
The new Soda Creek school would be built on the existing site at Laurel Street and Park Avenue in Old Town Steamboat. All preliminary drawings have been made with that parcel in mind, although architects from Christiansen, Reece & Partners have rotated the new building to allow more parking, better traffic flow and additional classrooms.
"The new footprint will be much more compact and maximizes the space, separating buses from visitor parking," architect Brian Risley said. "Traffic flow has been a major issue at this site. We feel this will be an improvement."
The existing Soda Creek school has 24 classrooms; the new building would have 28 permanent classrooms and six flexible learning areas - open spaces, surrounded by permanent classrooms, that would provide teachers and staff the chance to work more closely with small groups of students.
Other complaints about the existing school include its low ceilings - just 6 to 8 feet high - and the support columns that are placed in the middle of many of the school's classrooms.
The new school would be two stories with a media center in the heart of the building. The school would be 70,000 square feet.
Soda Creek Principal Judy Harris toured Prairie Hills Elementary School in Thornton, he school architects have modeled Soda Creek after, this summer. There have been some changes to cater to Steamboat's specific needs, but not many.
"We have done our homework," Harris said. "The concept is exciting."
Ventilation is an issue at Soda Creek and Strawberry Park, district facilities director Rick Denney said.
If the bond issue passes, both elementary schools would have full ventilation systems.
"It brings both elementary schools up to a very high standard," Risley said.
Strawberry Park also has a size problem. Currently, one-quarter of the school's students are housed in temporary classrooms or modular buildings. Only one of the modulars has indoor plumbing.
"We are hurting for square footage," Strawberry Park Principal Mark MacHale said. "Five years from now, if there is no change, it will only get worse. I'm speaking on behalf of (the students). I don't want to pick and choose who to put in the modulars."
The renovation plans include the addition of 10 permanent classrooms to the 24-year-old building, expanding its total size to 64,500 square feet.
The increased classrooms would address the need for additional kindergarten space should Steamboat decide to offer all-day kindergarten.
It was a concern board member John DeVincentis expressed during the planning process.
Both buildings would place administration offices in the front to address safety concerns. Officials say better ventilation would keep teachers at both schools from having to open doors - another safety concern - for fresh air.
"I think it's a great design," MacHale said. "I'm equally excited about getting some good air flow into that building. If you are looking at first-class facilities, that's something that needs to be done."
The cost to renovate Strawberry Park is estimated at $8.81 million. The cost to rebuild Soda Creek is estimated at $20.88 million, which includes $900,000 to relocate Soda Creek students to the George P. Sauer Human Services Center during construction.
Renovating Soda Creek would cost more than 80 percent of the cost to replace the building, district administrators said.
Although most of the building plans are in place, construction timelines have not been finalized.
Board members and administrators will await the result of next month's election before moving forward with scheduling.
Steamboat voters approved a $24.75 million bond issue in 1998 to remodel and expand the high school.
In that election, 69 percent of voters supported the bond issue. The 2006 bond issue is about $4 million less than the 1998 bond issue.
If passed, 3D - and the separate school district mill levy override, 3C - will mean that residents who own a $450,000 home would pay $926 a year in property taxes to the school district. If 3D passes and 3C fails, school property taxes will be $892 a year.
If 3C passes and 3D fails, tax bills will remain at the current level of $830 a year because the override simply replaces an old bond levy. Residents' tax bills could decrease to $798 a year on a $450,000 home if 3C and 3D fail.