If you go
What: "Boogie-ing for Dave," a benefit dinner and raffle for injured Oak Creek resident Dave Ege
When: 6 to 10:30 p.m. Oct. 19
Where: Colorado Bar and Grill, 100 E. Main Street in Oak Creek
Cost: Suggested meal donation of $10; raffle tickets are $1 each or 6 for $5
Other: For information or to make donations, call Kathy "Cargo" Rodeman at 736-2422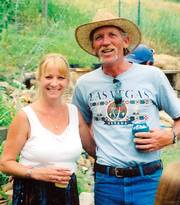 Oak Creek — Difficult cannot begin to describe the last month in the lives of Oak Creek residents Dave and Eve Ege.
On Sept. 7, Dave was paralyzed when a wall at a construction site fell on him. He clinged to life for nearly a month in a Denver hospital, battling infection and other complications. His wife has been at his side throughout the ordeal.
"We've been through a lot," Eve said Thursday, describing the month she and her husband spent at Swedish Medical Center in Denver. "Dave has problems with his respiratory system and he has had infections in his spinal column. It's been rough."
Dave is at Craig Rehabilitation Hospital in Denver, one of the nation's best hospitals for spinal cord injuries. It's where Dave most likely will spend the next several months as he learns to adapt to his injuries.
A benefit for Dave and his family is scheduled for Oct.19 in Oak Creek, where restaurants Colorado Bar & Grill and Black Mountain Tavern have donated food for the all-you-can-eat dinner. Local band Blue Rooster Light will perform, and Oak Creek Mayor Kathy "Cargo" Rodeman said many South Routt businesses have donated gift certificates, services, art and savings bonds as raffle prizes.
"Once again it's amazing how this community gives to take care of one of its own," Rodeman said.
The Sept. 7 accident was simply that - an accident, coworkers and Eve said. Ege's boss, David Truly of Truly Custom Remodeling, said the accident couldn't have been prevented.
"It's not like Dave or anyone else did anything wrong. It was just a freak accident. They lost control of the wall and everyone else got out of the way, but knowing him he was probably trying to hold the wall up so it wouldn't fall on anyone else," Truly said. "It happened in the blink of an eye."
Eve Ege said Truly and Dave's coworkers have been very supportive. She doesn't blame anyone for what happened.
"That's why they call them accidents," she said.
After the accident, Dave was flown from Yampa Valley Medical Center to Swedish Medical Center, where he spent weeks on a respirator fighting illness and infection.
Ege has been diagnosed as a C6-C7 incomplete quadriplegic, which means he broke the sixth and seventh cervical vertebrae in his neck. He is mostly paralyzed from the neck down, although he does have some movement in his hands and sensation in other parts of his body, Eve said.
"I can honestly say we're doing much, much, much better then we were. We're getting ready to climb that long ladder to recovery," she said, adding that Dave's spirits have been high.
"He's strong. He's willing, and he's a fighter. He's still got that same sense of humor that makes everyone fall in love with him. He's still Dave," she said.
Eve said she won't return to work until after Dave is released from the hospital.
"From the very first day, I told Dave that I am going to be on this ride with him, right next to him, as long as it takes us," she said. "This is my new job."
Eve intends to attend the Oct. 19 benefit - provided she feels Dave will be OK without her for a night.
"It's absolutely overwhelming and incredible what the community has done for us. The love and support we've received has made him and I feel so, so loved," she said.
Eve said friends or family can send cards or flowers to Dave Ege at Craig Rehabilitation Center, 3425 S. Clarkson, Englewood, CO 80113.
- To reach Alexis DeLaCruz, call 871-4234 or e-mail adelacruz@steamboatpilot.com