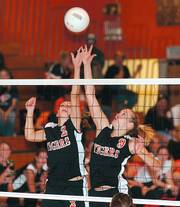 Hayden — The only question the Hayden volleyball team had to worry about Friday night was what hairstyles they'll don at tonight's homecoming dance.
The Tigers easily disposed of Grand Valley in three games, 25-14, 25-17, 25-20.
"We've just been doing really well," Hayden player Lauren Frentress said. "This was a good game, especially for homecoming."
Hayden made sure in the first game that Grand Valley knew they came to play. Frentress started the game by serving six consecutive aces and spurred Hayden to a 10-0 lead. After the Cardinals made a brief comeback, Hayden put them away for good behind the strong hitting of Kylee Sweetser and Holli Salazar.
The second two games were very similar in that Hayden would toy around with Grand Valley before downing the Cardinals for good. In both games, Hayden and Grand Valley were tied at 10, before the Tigers would go on runs to finish the game.
Hayden head coach Stephanie Davis said seeing her team fight back when Grand Valley would string some points together shows how much her team has improved.
"I think we don't quit - we don't watch balls hit the floor anymore because that's the nature of this team," she said. "We are able to regroup better when we have a lull in our match."
With little left of the season before the district tournament, Davis said she's confident with the way her team is playing.
"I think we have a shot," she said. "Three go onto regionals and I think if we continue to play hard we're competitive with any other team in our district now. We have to continue to take care of our own business."
- To reach Luke Graham, call 871-4229
or e-mail lgraham@steamboatpilot.com