Individual statistics
Individual statistics
Rushing
H: Coy Letlow 29-168; Russell Waugh 8-38; Doolin 6-22, 2 TD; Brandon Ford 3-2.
GV: Manzanares 15-57, 1 TD; William Waugh 7-11; Gallegos 6-16, 1 TD; Maxfield 2-1.
Passing
H: Doolin 6-7-1 77 yards.
GV: Gallegos 7-9-0 152 yards, 2 TD.
Receiving
H: Haskins 3-39; Waugh 1-25; Letlow 1-8; Dave Gullett 15.
GV: Jensen 3-75, 1 TD; Maxfield 2-15; Colton Cowan 1-33; Manzanares 1-30, 1 TD.
Game Statistics
Hayden Grand Valley
14 First Downs 9
45-230 Rushes-Yards 31-85
6-7-1 Comp-Att-Int 7-9-0
77 Yards Passing 153
307 Total Yards 238
4-41 Punts-Avg. 4-51
0-0 Fumbles-lost 1-0
4-55 Penalties-Yards 2-15
SCORE BY QUARTERS
Hayden 00-07-00-07-14
Grand Valley 06-00-15-07-28
SCORING SUMMARY
First Quarter
GV 2:19, Richard Gallegos 2 run. (Kick fail).
Second Quarter
H 4:28, Mitchell Doolin 1 run. (Aaron Haskins kick).
Third Quarter
GV 10:05, Tyler Jensen 53 pass from Gallegos. (Derrick Maxfield pass from Gallegos).
GV 1:34, Danny Manzanares 30 pass from Gallegos. (Dillon Smuin kick). Fourth Quarter
GV 9:40, Manzanares 9 run. (Smuin kick).
H 8:24, Doolin 25 run. (Haskins kick).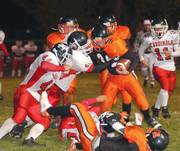 Hayden — Hayden coach Shawn Baumgartner knows it's not the end of the world.
Still, Friday's 28-14 loss to Grand Valley hurts in more ways than one.
The loss was the first of the season for the Tigers and, more importantly, it drops them into a three-way tie for first place with Paonia and Grand Valley. A win would have put the Tigers in sole possession of first place and left them two games ahead of Paonia and Grand Valley.
"Grand Valley's a good team," Baumgartner said. "We knew it coming in. They were fighting for their playoff life, and they had everything in the world to play for. Hats off to Grand Valley, they're a good football team, but we're still in the playoff hunt."
In the first half, it looked like Hayden (6-1, 3-1 in league play) might remain undefeated. The Tigers outgained Grand Valley 173 yards to 31 and ran 16 more offensive plays. In spite of the substantial offensive difference, Hayden was able to take only a 7-6 lead into halftime.
The Cardinals (6-1, 4-1) struck first, when Richard Gallegos scored from two yards out to make it 6-0. The drive was set up when Hayden couldn't convert on fourth-and-one from its own 34-yard-line. The Tigers marched right back and put together a 12-play, 80-yard drive capped off by Mitchell Doolin's one-yard on fourth-and-goal.
Then, Grand Valley snatched away the momentum on the fourth play of the second half when Gallegos found Tyler Jensen for a 53-yard touchdown pass. The two-point conversion made it 14-7.
"Having a leader like Richard and having the one dependable receiver like Tyler really helps," Cardinals coach Mike Johnson said. "Those two things combined really set us apart."
The Grand Valley passing game was what set the score apart in the second half. After not completing a pass in the first half, Gallegos went 7 for 7 for 153 yards and two touchdowns in the second half.
His 30-yard strike to Danny Manzanares at the end of the third quarter put the Cardinals on top, 21-7.
On the ensuing possession, Hayden was driving when Doolin threw an interception after the receiver fell down. Seven plays later, Manzanares scored from nine yards out to leave Hayden in a 28-7 hole.
Doolin scored his second rushing touchdown of the night - this time from 25 yards out - but it was too little, too late for the Tigers.
Even with the loss, the Tigers still control their destiny for the playoffs. With games against Rangely next week and Meeker after that, Baumgartner said the Tigers are still in a position they want to be.
"It hurts to lose and nobody enjoys to lose," he said. "But you can't hang your head, you can't dwell on it. We've got to come back Monday and prepare ourselves.
"We've got two more league games. We control our destiny. If we can win those out then we're going to get a shot in the playoffs and that's what we want."
- To reach Luke Graham, call 871-4229
or e-mail lgraham@steamboatpilot.com