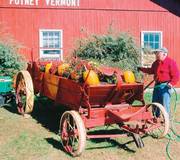 Blessed with a few unscheduled days in New England last week, I set out in a rented Buick Rendezvous, looking for the covered bridges of New Hampshire's Monadnock Region. I found the bridges, but the people I encountered on my rambles were far more interesting.
There was Don Harlow at an orchard outside Putney, Vt., who told me some of the history of his manure spreader. And I introduced myself to Dennis Howard near Grantham, N.H. Howard challenged me to guess how many dairy cows he had artificially inseminated during his career. I think my answer surprised him.
I don't know if you've noticed, but none of the many road bridges in Routt County are covered with roofs in the picturesque way that some historic bridges in Maine, New Hampshire and Vermont are. It's probably just as well. People all over New England are struggling to raise money to preserve their rickety one-lane bridges.
Until last week, the only covered bridges I had seen were on those little calendars you sometimes receive from insurance agencies. Intent on satisfying my curiosity about covered bridges, I fought my way out of the hellish commercial strips of north suburban Boston and headed southeast on the turnpike until I reached the exit for Ware, Mass.
After a quick pit stop at the Crystal Dairy Bar, I headed north along 38 miles of twisting road through sparsely inhabited countryside leading to the New Hampshire state line.
As the sun went down, I stopped at a country store for a six-pack of Long Trail Double Bag Ale and a ring bologna, then put on my fleece and snuggled into the Rendezvous parked at a commercial campground.
Early the next morning at Kristin's Coffee Shop in the bustling college town of Keene, N.H., a clerk named Carol schooled me in the pronunciation of local landmarks. Monadnock (emphasis on the second syllable) wasn't so hard. The locals claim that the 3,165-foot summit of Mount Monadnock is the most climbed in North America.
More problematic was the pronunciation of Ashuelot, as in the Ashuelot River. Even the locals are confused on this matter. It's the corollary to Service Creek in Routt County. Depending on whether you live in Keene or nearby Winchester, the name of the river in New Hampshire is either pronounced Ash-will-et or Ash-wheel-ot. Take your choice - all six of the covered bridges near Keene are close to the river, and some of them are relatively easy to find.
On my way from one bridge to another, I stopped into Fat Chance Antiques in Winchester. I asked Nancy O'Connor about the nearby Coombs Bridge.
It turns out bridges in the region were originally covered to keep them clear of snow and to strengthen the structures. In the old days, they doubled as town meeting halls and Saturday night dance halls. Today, if you venture into a covered bridge on foot, you'll come face to face with the morning commute.
New Hampshire folk are a little weary of leaf peepers standing in their bridges, but they also care deeply about them (the bridges, that is).
"They're very important," O'Connor said. "I'm proud of them."
I didn't want to leave New England without at least stubbing my toe in Vermont, so I continued on across the Connecticut River into Brattleboro. Avoiding I-91, I steered the Buick along a parallel path up Route 5 toward Putney. I stopped at Harlow's Sugar House and bought some maple syrup and a half-gallon of unpasteurized cider that had been pressed in the back room. When I stepped outside, a hearty fellow wearing a crimson chamois shirt was watering potted chrysanthemum plants that were packed into an old farm implement along with a couple dozen pumpkins.
I decided to take a flyer on introducing myself to a crotchety old Vermont guy.
"Excuse me, sir," I said. "But, if I'm not mistaken, you are watering a manure spreader."
The gray-haired man in the red shirt fixed me with a long stare.
"That's right," he said.
I held out my hand by way of introduction and on the second try got him to tell me he was Don Harlow, age 75.
"Tell me Don, did you ever put that manure spreader to its intended use?"
I endured another long stare.
"My brother and I used to shovel this manure spreader full of (bleep)," Harlow replied. "And when we shoveled the (bleep), we stood facing each other."
Harlow gazed at me intently while he waited to see if I would catch on.
"Well," I replied. "You're holding that hose in your right hand. So, in order for you and your brother to safely shovel (bleep) while facing each other, he had to have been a lefty."
I'd like to tell you Don's only reply was "Ay-yuh," but I'd be guilty of embellishing the story. The truth is, he continued to talk (bleep).
Next day, driving north on Route 10 in New Hampshire, I was almost all the way to Grant-ham when I spied Bouldervale Farm flashing by the passenger side window. There was a massive old dairy barn and pumpkins were perched in every window.
I nailed the brakes and doubled back to take some photographs.
Dennis and Connie Howard were in the pumpkin patch pulling up withered vines when I parked my conspicuous rental car.
Connie said I was welcome to take all the pictures I wanted, and Dennis insisted on giving me a tour of the inside of the barn.
The interior was whitewashed, and I told Dennis it reminded me of the Wisconsin dairy barns I used to visit.
"I know something about dairy farming," I told Dennis.
"Is that right?" he asked. "Try and guess how many cows I bred in 34 years. That's what I did for a living."
I did some quick math.
"I haven't seen many alfalfa or corn fields in this area," I said. "So the farms were small. I'm going to guess there were fewer than 100 farms in the region at one time, each milking no more than 30 cows. It sounds like too big a number, but in 34 years, you might have bred 90,000 cows."
"That's the closest anyone has ever come to the right number," Dennis said with mild surprise. "I bred 84,000 cows in 34 years."
I was tempted to ask if he recalled their names, but thought better of it and simply replied, "That's a lot of cows, Dennis."
- To reach Tom Ross, call 871-4205 or e-mail tross@steamboatpilot.com