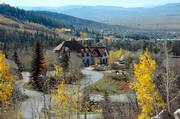 Steamboat Springs — An issue that the Steamboat Springs City Council wrestled with for three years once again is causing a stir.
Residents who live on Ridge Road and Meadow Lane recently filed complaints with the city's Planning Department about vacation home rentals - homes rented short-term to vacationers - in their neighborhoods. The Steamboat Springs Planning Commission addressed two complaints at a meeting Thursday night.
Despite complaints by neighbors about noise and traffic issues that they said resulted from vacation rentals in a home on Meadow Lane, Planning Commission members voted unanimously not to revoke the vacation home rental permit of owner Suzanne Noble.
"I do not have anything tonight that was clear and convincing (evidence) to revoke a permit," commission chairwoman Kathi Meyer said.
Noble has put the house up for sale, and she said she "maybe" will continue vacation rentals during the holidays this winter.
The City Council established a city ordinance regulating vacation home rentals in 2001. It was the result of several years of discussions and disputes on the subject. The city has since issued more than 50 vacation rental permits to homeowners and property managers in Steamboat.
The ordinance, part of the city's Community Development Code, lists 19 criteria that homes used for vacation rentals must meet. "Clear and convincing" evidence of code violation is needed to revoke a permit, provided the violations are not corrected within 15 days of notice.
The Planning Commission cited compliance with all criteria in choosing to not conduct a revocation hearing for the vacation home on Ridge Road operated by Laurrelle Crawford. The home is known as "Bear Berry Cottage." The commission's decision to pull the hearing from Thursday's agenda angered numerous Ridge Road homeowners who attended the meeting to voice their complaints.
Action on Bear Berry Cottage was tabled at a Sept. 14 hearing. Ridge Road homeowners say the large house, which offers sweeping views of Steamboat Ski Area and the Yampa Valley - and which Crawford said can sleep up to 16 guests - is conducting business like a commercial hotel rather than a residential home.
"There are weddings and massages there - this is a lodge, a hotel, that is happening in our community," said Kathy Moser, who lives on Ridge Road with her husband, Bill.
"Sound travels far up here," Bill Moser said.
Bear Berry can clearly be seen from the Moser residence.
"We ought to be able to live in a single-family residence and have it stay that way," said Ridge Road resident Jim Randall, who also lives near Bear Berry.
Crawford said she began renting the home to vacationers in January 2004. The home is occupied about 50 nights a year, she said, by families averaging about 12 people. The minimum stay for guests is three nights, Crawford said. She charges a minimum of $1,100 a night to rent the home, which she advertises through Internet tourism sites.
Crawford declined to say how much money she makes a year, but said the rentals are her only source of income.
"It's the only way I can keep the house," she said. "It's barely enough to meet my overhead."
After an Aug. 26 wedding "got out of hand" and brought police to the home in response to noise complaints, Crawford said she wrote an apologetic letter to neighbors and voluntarily stopped booking weddings.
City planners notified her about the complaints and a possible revocation hearing Sept. 14. Then, upon further inspection of the home and clarification of vacation home criteria, planners notified Crawford of her compliance Oct. 9.
Planning director Tom Leeson said the department is working to revise and update the city's vacation home rental ordinance.
Ridge Road residents who filed the complaint have 10 days - until Oct. 19 - to send an appeal of the commission's ruling to the City Council.
Bill and Kathy Moser said Friday that they do not oppose vacation homes as a business, but they believe the homes should not be located in single-family, residential areas.
"This is starting to happen in several other areas in Steamboat," Kathy Moser said.
- To reach Mike Lawrence, call 871-4203 or e-mail mlawrence@steamboatpilot.com