Photo Gallery
Plein air paintings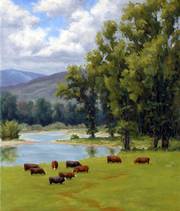 The two artists featured at Steamboat's Schiesser Gallery share a talent - and sometimes one another's company - while painting "en plein air." But their styles are on opposite ends of the spectrum.
"It's so interesting when we paint together," said local artist Zanobia Shalks, who goes by her first name. "We can stand 10 feet apart from each other, and our paintings look totally different."
Susan Schiesser, owner of Schiesser Gallery, formerly Studio Gallery 27, describes Phil Wright's work as perfect, precise and following all the rules of plein air painting. Zanobia's paintings, she said, have little regard for the formal rules and are the embodiment of creative simplicity.
"As Zanobia forges resolutely ahead on her artistic vision, it is the reality of a day in the country that remains splashed across her canvas in a celebration of thick, juicy paint - squished, slopped, and scratched - reverently and ceremoniously," Schiesser said.
Zanobia said she has been doing plein air paintings before they became a buzzword. Plein air painting generally describes that which represents the observed effects of outdoor lighting and atmosphere.
"I've been painting outside forever. That's a new word for me," she said. "I called it painting on location."
Zanobia's work often focuses on aspens. She strives for the perfect painting that will capture the feeling of them.
"I've come close a few times, but I feel like you can paint aspen trees for the rest of your life and never be done," she said. "They are so fascinating the way the leaves shimmer, and there's always another view, different lighting, colors, trunks and seasons affecting them."
Water also captivates Zanobia when she paints.
"The water which appears moving versus still reflections of the evening on still waters," she said. "And when it looks like you can see right into it and feels like you can stick your hand into it."
Half of her work is done while camping.
"I love the campfire and just being outside. I love everything but the bugs," she said. "And it's nice not having to rush home in the dark after finishing, because I normally finish at night."
Wright prefers to paint in the morning, when the sun is lower in the sky and there are some shadows to work with.
"But it's tough to do early painting. I'm not that kind of person," he said. "I wake up at 7 a.m. But waking up, getting out and painting is another thing."
Wright strives to create balance and harmony in his paintings with a limited palette of three colors and white oil paint.
"One thing I try to do is catch the interaction of light and atmosphere," he said. "I try to capture the drama and sometimes the calm."
Schiesser finds Wright's painting hauntingly alone in a minimalist approach to romantic realism.
"They exude solitude, quiet, the atmospherically muted silence of open pastures and large vistas, the white noise of water and the timeless sound of absorption after a big rain," she said. "Wright's large paintings are a creature comfort, soulful companion and friendly reminder of what we have in nature and might lose to our own environmental indiscretions."
Wright's MBA and aeronautical engineering degrees have complimented the painting techniques he's been developing for more than 30 years.
"There are some relationships to seeing things, a relation of objects and some link to seeing things mechanically and seeing things when you are looking at an object three-dimensionally," Wright said.
He primarily paints landscapes that never remain still.
"Whether I'm painting an animal that's moving or light that's moving, what you are looking at changes by the minute," Wright said. "Fortunately cows are not too fast, but antelope running is a little different."