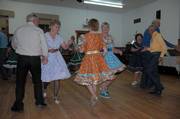 I wanna dance
Sitting in the back of a car, Dazed and Confused character Mike Newhouse confessed to his friends he didn't want to be a lawyer. When asked what he wanted to do instead, he said, "I wanna dance."
My sentiments exactly, Mike.
Steamboat lacks a "dance club" per se, so opportunities are limited. In fact, I rarely cite dancing as a "must do" weekend activity anymore, preferring to dance in the comfort of my home.
Citing a desire to sit down and talk, our group made its way to Old Town Pub only to have it fill up with people who clearly had the itch to dance.
Consider my Friday plans changed. We had a blast, prompting me to throw out a plea, "When is a dance club opening here?"
- Melinda Mawdsley
I concur
The scene Friday night in Steamboat Springs was at The Old Town Pub. I had no urge to bar surf or leave my 2 inches of dancing space in front of DJ Also Starring because everyone was there. Everyone.
Hip to the square
Reporter Alexis DeLaCruz and I traveled to Hayden Friday night at 7 p.m. to cover the square dancing beat at the Hayden Congregational Church UCC to dance with the Greenridge Mountaineers.
My cheeks hurt the whole time from smiling too much. The dancers were the sweetest, nicest people I have met in a long time and they've got the whole evening planned down to a science. In between dancing to two songs at time, they take a break to snack on homemade apple pie, brownies and other assorted goodies.
Each person I asked about why they came every week said it was because of the socialization and because it's just fun. And it was.
They accept newcomers every week and people with no experience. As soon as we got there, they immediately learned our names and made us feel at home.
We learned moves like "promenade," "allemande left" and "right grand." There is also a caller who tells you what the next move is, so you can't mess up. And even if you do, everyone laughs with you.
After every song, everybody hugs or shakes hands and thanks each other.
Thank you Greenridge Mountianeers.
- Allison Plean