Photo Gallery
State tennis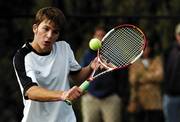 Pueblo — After surviving weather delays, a tough draw and some foul language, four Steamboat Sailors were still in the hunt for titles at the end of the first day of the Class 4A state tennis tournament at Pueblo City Park.
"I'm real proud of these young men," Sailors coach John Aragon said after the opening-day matches. "We brought 11, and they all fought hard - a coach can't ask for anything else."
The Sailors advancing to today's semifinal matches include No. 1 singles player Andrew Hoing, who knocked off Kent Denver's Vincent Heguy in the quarterfinals, 3-6, 7-6 (5), 6-2.
"When I won the second set, I knew that I could play with him," Hoing said. "I knew that I could pull it out."
The start time of the tournament was pushed back two hours to allow the courts to dry. Once play started, Hoing cruised past Pueblo County's Miles Lucero, 6-1, 6-3, to set up a quarterfinal match with Heguy.
Heguy beat Hoing earlier this season during a dual match at Kent Denver. But Hoing said he didn't feel intimidated during Thursday's rematch.
"I played him earlier in the year, but it was a close match," Hoing said. "I knew that I just had to come play my game, and I would come out with a win."
Heguy won the first set, 6-3. But Hoing battled back to take the second set by winning a tiebreaker, 7-5. The final set between the two players got ugly when Heguy openly questioned a line call and then uttered several expletives when he didn't agree with an official who was watching the game. Hoing didn't let his opponent's behavior bother him. He closed out the match, winning the final set, 6-2.
"You just have to stay focused," Hoing said. "You just have to play your own game, and you can't let outside factors bother you."
Heguy's unsportsmanlike behavior didn't stop after the match was over. He tossed his tennis racket across the court and made an obscene gesture at the linesman, ending any chance he had to continue playing in the tournament. He was disqualified after the match.
Things will not get any easier for Hoing. He is scheduled to face Thompson Valley's Martin Cobo, the tournament's top-ranked player, in today's semifinals.
Hoing isn't the only Sailor still looking for a title in Pueblo.
Junior Ramsey Bernard upset Kent Denver's Charlie Sayre in the semifinals, 6-2, 7-5, to keep his title dreams alive in the No. 2 singles bracket. He knocked off Rock Canyon junior Kyle Hicks earlier in the day.
"I just wanted to be as intense as I could the whole match," Bernard said. "I think I did that pretty well. I just wanted to play my game and keep hitting it to his backhand."
This is Bernard's third straight trip to the semifinals. In 2004, Bernard won the state title, but last year, he placed third after losing his semifinal match to Cheyenne Mountain's Daniel Moore, 7-6, 7-6 (10-8). Moore went on to win the state title in the No. 2 singles bracket.
Steamboat's No. 2 doubles team of Jesse Schaller and Dylan Roberts also is alive after coming back in the third set of the quarterfinals to beat Broomfield's Elliot Roberts and Jacob Shaffer, 6-2, 3-6, 6-1.
"We had them where we wanted them in the first set, but we let them crawl back into it," Schaller said. "We made some errors, but we fought back in the third set and really stepped it up."
While Hoing, Bernard, Schaller and Roberts play in today's semifinals, Steamboat's No. 1 doubles team will hope for a second chance in the playbacks. If Cheyenne Mountain knocks off Mullen, Brian Aragon and Brian Burger will get an opportunity to play for a chance at third place despite losing in the second round.
Steamboat's No. 3 singles player, Jordan Bernard, who lost to Broomfield's James Farver in the first round, 6-1, 6-0; the No. 3 doubles team of Andrew Riley and Matt Gadbois; and the No. 4 team of Charlie Smith and Jeff Lambart are out of the tournament. The No. 3 team lost to Mullen, 6-2, 6-3, and the No. 4 team lost to Fossil Ridge, 7-6, 6-2. Both Mullen and Fossil Ridge lost in the second round.
At the end of the first day, Cheyenne Mountain led the team totals with 12 points, followed closely by Kent Denver with 11. Steamboat was in fifth place.