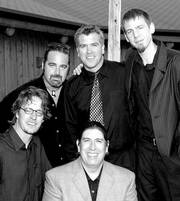 Past Event
Friday, October 13, 2006, 10 p.m.
Tugboat Grill & Pub, 1860 Ski Time Square Drive, Steamboat Springs
21+ / Free
Vail is a long way from Saudi Arabia, but mountain living suits the Jonny Mogambo Band's frontman just fine.
The band, which generally plays funk rock with jazz influences, has traveled the world performing for military personnel. Take, for instance, the time a sniper had to escort band members around Camp Monterey in Saudi Arabia.
"It was during the Gulf War and 60 miles off the Iraq border. There was just this 10-story cement fortress surrounded by gate patrol," Mogambo said. "So we just pretended the soldiers' wives and women were there, and everyone got down."
The Jonny Mogambo Band also has traveled to military bases in Kuwait, Turkey, Greece, Italy, Spain and Crete.
"When we played on the island of Crete, they had a big CD-10 they flew us around on, and the plane broke and we had to stay for six days," Mogambo said. "From a musical standpoint, we'd drop into these places, and you are in a whole other world."
Playing for the troops was rewarding because it gave soldiers the opportunity to let loose, dance and have fun. But that wasn't always the case.
"A couple times we went to some bases in Saudi Arabia and the whole base had just found out they had to stay another six months, and it sucked," Mogambo said. "Some people didn't care what we were doing, they were just angry they had to stay there."
Playing for civilian crowds tends to be a bit easier, he said.
The makeup of the Jonny Mogambo Band depends on the performance - it could be a solo performance starring Mogambo himself or an eight-piece band.
"We play everything from funk rock to rhythm and blues, ska, reggae, bluegrass, jazz and motown," Mogambo said. "You will hear a lot of different influences, and it's been tough getting radio play because people try to classify your sound."
Mogambo has found that living in Vail makes it easy for him to access the mountain towns in which he performs. The rest of his bandmates live on the Front Range.
During the winter, Mogambo plays a solo aprÃs-ski show five days a week.
"Those shows are all about the people and less about the music," he said. "It's about taking requests from tourists, getting the shot-ski out and getting everyone singing."
Mogambo has been doing aprÃs-ski shows for 10 years and said the scene can be insane.
"People from the Midwest drop 12,500 vertical feet and are all loaded in adrenalin and need a few shots," he said. "I do a lot of screw-until-you-puke songs, because you're going to puke anyways."