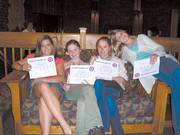 Steamboat Springs — Four dedicated Steamboat Springs High School athletes will begin their season this weekend after a summer spent training. Cole Worsley, Cody Poirot, Lexie Ruppel and Zach Ruppel will travel to Loveland to compete in the Fall Harvest swim meet Saturday and Sunday.
Competitions such as the USA Swimming-sanctioned Fall Harvest are great ways for swimmers to train and accumulate points and times that could attract college coaches, Steamboat swim coach Patti Worsley said.
Worsley said her year-round team has grown since last year with the addition of the Ruppel siblings, whose family recently moved to the area from Georgia. Zach is in his senior year of high school, and Lexie and the other three team members are in their sophomore years.
Practicing six days a week since the end of the summer at the Old Town Hot Springs, the team's training has focused on a variety of aerobic workouts, kicking drills and distance legs, Worsley said.
Although Lexie Ruppel is still undecided, the remainder of the team will compete for the Moffat County swim team during the scholastic season before finishing the second half of the USA Swimming spring season.
"It will be exciting to see how they do. Cole and Cody have never trained this hard," Worsley said.
Summer swimmers honored
A group of Steamboat's other prospective star swimmers - those who compete in the Colorado Swimming Inc. summer club league - recently were honored at the CSI awards dinner Saturday in Glenwood Springs.
Molly Dierdorff, Katie Ross, Lucy Franklin and Amy Brodie accepted their awards for breaking and setting a new state record during the seasonal state swimming championships Aug. 4 to 6 in Craig. Helping Steamboat Springs' Team Lightning take fourth place at the meet, the four girls set the record in the girls 12-and-under 200 meter freestyle relay in a time of 2 minutes, 13.89 seconds, breaking the previous record of 2:16.12.
- To reach Dave Shively, call 871-4253 or e-mail dshively@steamboatpilot.com