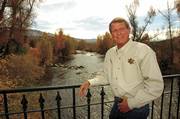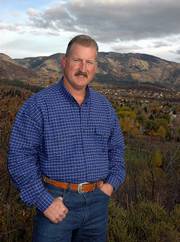 Steamboat Springs — Gary Wall, the Democratic candidate for Routt County sheriff, filed for bankruptcy protection and had liens filed against him by the IRS in the 1990s.
Garrett Wiggins, the Republican candidate, has never been arrested nor filed for bankruptcy. However, he acknowledged Wednesday that he has been reprimanded twice in his law enforcement career.
The Steamboat Pilot & Today questioned both candidates about their backgrounds Wednesday and then ran background checks using a fee-based Internet service called IntegraScan. The background checks did not produce any information that the candidates had not already acknowledged.
Wall's background
The background check on Wall showed that the IRS filed three tax liens ranging between $2,064 and $15,553 against him between 1990 and 1992. Wall said the liens were resolved years ago.
The check also showed that Wall filed for Chapter 13 bankruptcy in 1996. Wall, 65, said he filed for bankruptcy on the advice of attorneys. He said the financial crisis was the result of a bitter divorce that left him thousands of dollars in debt.
"Every attorney I talked to back then told me I had no choice but to file bankruptcy because I was responsible for (all of the debt from the marriage)," he said.
Under Chapter 13, debtors repay as many creditors as possible from future income.
Wall said his 10-year-old bankruptcy filing was for personal reasons and does not have any bearing on his ability to manage the Sheriff's Office. "This has nothing, absolutely nothing, to do with me running for sheriff or my capacity for doing so," he said.
Wall was charged in 2001 in Maricopa, Ariz., for obstructing traffic and disorderly conduct. Wall said he chose to jog home, rather than drive, after a night at a casino. He was stopped by officers who found his presence along the highway that late at night suspicious. All charges were later dismissed, Wall said.
Wall said he has no criminal history, which the background check verified.
"As a licensed private investigator in Arizona, I am required to give fingerprints every two years, and they do background checks on me," he said. "There is nothing there."
Wall served as a detective in Aspen and as the police chief in Vail during the 1970s. He had a clean and successful record in both roles, said Terry Minger, Vail's city manager at the time. Minger said he recruited Wall from Aspen to be Vail's police chief.
"I hired Gary from the Aspen Police Department because at the time he was a sergeant on the Aspen force and had a good reputation there," Minger said. "I had just fired a police chief in Vail and was looking for someone younger, less rigid and that fit into a resort community."
Minger said he and Wall both left the city of Vail within six months of each other to pursue private business opportunities. Both left under good terms, he said.
Wiggins' background
Wiggins, 40, said he has never been arrested or convicted of a felony but that he has been reprimanded during more than 20 years as an officer.
"Yeah, I've been reprimanded," Wiggins said. "Once during my first year as a police officer in Quincy, Fla., and once in 2001 at the (Routt County) Sheriff's Office."
The reprimand at the Sheriff's Office later was removed from his file after he had an opportunity to explain his position with his superiors, he said.
Wiggins said he has not been reprimanded during his five years working as a police officer in Steamboat Springs. Public Safety Director J.D. Hays confirmed Wiggins' statement.
Wiggins said his first reprimand in Florida came after he "got out of line and used some inappropriate" language with his supervisor, a sergeant.
While working at the Sheriff's Office, Wiggins was written up for using poor officer safety during a situation in 2001 in which Wiggins pulled over a driver who was driving with a revoked license and whose two passengers were intoxicated. The men also had weapons and ammunition in the car because they had been hunting, he said.
Wiggins said he made the decision to get the men out of the car and stand them alongside the highway, which his sergeant felt exhibited poor officer safety because Wiggins did not have backup. Wiggins said he wrote a letter justifying his actions and got the reprimand removed from his personnel file.
Routt County Sheriff John Warner said Wednesday he could not discuss Wiggins' personnel file.