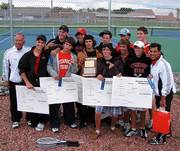 Steamboat Springs — Kent Denver and Cheyenne Mountain will be the favorites when the 4A state high school tennis championships open at Pueblo City Park on Thursday. But Steamboat's Ramsey Bernard doesn't think the Sailors should be overlooked.
"We've grown a lot this year," Bernard said. "If we play as a team and up to our ability, I think we are going to shock some people."
Coaches John Aragon and Don Toy hope their No. 2 singles player is right. If the opening round goes as expected, the members of the Steamboat Springs High School boys tennis team will need to shock more than a few of the favorites en route to this year's finals.
All three Sailors singles players are expected to run into top-rated players from Kent Denver in the second round. The same is true for the Sailors' No. 3 doubles team. But that's only if the Sailors and Sun Devils survive the first round.
If Steamboat's No. 1 doubles team of Brian Burger and Brian Aragon can top Longmont's Wade Kingsbury and Kirk Knaus in the first round, the road isn't expected to be much easier. They will face either Cheyenne Mountain's Dennis An and Jay Patel or Greeley Central's Drew Willede and Andrew Rice in the second-round match.
"It would have been nice to be seeded, but we only played half a season together," Burger said. "But I think we will be able to hold our own down there."
Aragon and Burger have not lost a match this season, going 8-0 since joining forces. Unfortunately, Burger missed the first part of the season after transferring to Steamboat from Evergreen.
Despite the tough draws, the Steamboat players were looking forward to the start of this week's state tournament during Monday's practice at the Tennis Center at Steamboat Springs. Last weekend, the squad pocketed its ninth straight regional title in Montrose, and the Sailors feel like they can make another run this week.
"Personally, I'm not really sure what to expect," senior Andrew Hoing said. "But I've heard a few things. I know this team has a tradition of winning and of playing well at big tournaments. I guess it doesn't get much bigger than this."
Hoing moved from Houston to Steamboat Springs last summer and is making his first appearance at a state high school tournament. However, five of the 11 Steamboat players who will take the court this week have been there before.
The state veterans include Bernard, a 2004 state champion, at No. 2 singles, and Jesse Schaller and Dylan Roberts at No. 2 doubles. Last year, Schaller and Roberts teamed up to take third at the state tournament. Bernard also pocketed a third-place medal.
"This has been our goal from the beginning of the season," Roberts said. "I think it takes on added importance because we are both seniors."
This year, the doubles team has stepped up to the No. 2 position, and both Schaller and Roberts agree that the competition is going to be tougher. But they also stress that the added competition will not stop them from being competitive.
"We've both grown as players since last year," Schaller said. "The state finals are so much fun because you always want to compete against and beat the best teams."
Last year, Brian Aragon played with Jon Reese in the No. 2 position. This year, he is teamed with Burger as part of the Sailors No. 1 doubles team. Burger, who came from Evergreen, also has been to state in the past.
Newcomers to the state scene include Hoing at No. 1 singles, and Jordan Bernard at No. 3 singles. Andrew Riley and Matt Gadbois will make their first appearance at No. 3 doubles, and Jeff Lambart and Charlie Smith will play in the No. 4 slot.
"I have to think this team is going to contend for a state title," coach Aragon said. "The way these kids compete, you can never count them out."
Steamboat was swept by Kent Denver earlier this season in a 7-0 match, but the Sailors coach says a lot has changed.
"This is a totally different team than the one that played Kent earlier this year," he said. "They have so much heart."
He agrees that Kent Denver and Cheyenne Mountain are the teams to beat this week, but Aragon said there are several other players that could play a role in the finals.
Thompson Valley's Martin Cobo will be the favorite at No. 1 singles, and Greeley West and Golden also field very deep teams.
The tournament will open with two rounds Thursday in Pueblo City Park. The playback and semifinal matches will take place Friday. The tournament will come to a close Saturday with the finals and third- and fourth-place matches. The tournament begins at 9 a.m. on each of the three days.