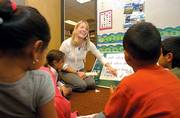 Steamboat Springs — The number of Steamboat Springs School District students who speak a primary language other than English continues to spiral upward, with this year's enrollment of English Language Learners, or ELL students, reaching almost 100.
"The way our numbers are increasing, we have to talk about how our schools are changing," said Kelly Stanford, the district's director of curriculum and instruction.
Stanford gave a brief presentation to Steamboat Springs School Board members during Monday's meeting, telling them there are nearly 100 English Language Learners who receive student services through the district's English as a Second Language program.
When Superintendent Donna Howell took over the district four years ago, there were 12 ELL students, and the district hired its first full-time ESL aide. This year, the district has four full-time ESL teachers - one at each school.
"We have expanded services to meet the needs of students," Howell said. "By all accounts, it is going very well."
Soda Creek has 31 ELL students - the most of the district schools. Strawberry Park, which had sent most of its ELL students to Soda Creek in recent years, has 27 ELL students. The middle school has 21 ELL students, and the high school has 17 ELL students.
Strawberry Park Principal Mark MacHale is honest about the challenges teachers and administrators face because of the influx of ELL students, but he is no stranger to those students' needs.
Before moving to Steamboat, MacHale was principal at Rifle Middle School, where he estimated the ELL population to be between 40 to 45 percent of the student body.
"We are trying to teach kids who don't speak English to operate in a very challenging academics environment," MacHale said. "The good news is that we really do know what to do."
MacHale said Strawberry Park was pleased to welcome back those students who moved to Soda Creek last year for better ELL services. Last year, Strawberry Park had six ELL students.
"They are working hard," MacHale said. "Honestly, most districts experience exponential growth. There are lots and lots of districts where their ELL population has grown five to 10 percent a year."
If Steamboat experiences a 10 percent population growth during the next decade, the district will have nearly 1,000 ELL students. Establishing a program and hiring teachers on the front end is a step in the right direction, Stanford said.
"I think this is a pivotal year for us," she said. "I'm very excited and hopeful for this year."
The district's four ELL teachers are Susie Gruben (elementary), Tiffany Gebhardt (elementary), Cathy Girard (middle school) and Leslie Gumbrecht (high school).
- To reach Melinda Mawdsley, call 871-4208 or e-mail mmawdsley@steamboatpilot.com