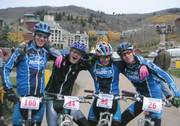 Steamboat was able to take third place Sunday at the Colorado Scholastic Mountain Bike Championship at Beaver Creek Resort, despite competing with just three riders out of five allowed.
Bryce Gordon, Sam Chovan and Adam Parke competed for Steamboat.
"These guys just blistered it," said coach Ben Clark, who helped coach on the Steamboat Springs Winter Sports Club's cycling program that the three boys train with in the summer.
Divided into categories by grade level, athletes raced two laps around a 5.7-mile loop of a sustained road climb followed by a twisting singletrack descent.
Gordon took second overall and first in the 10th-grade age category, in which Parke took sixth.
"It was (Parke's) first race back after breaking his collar bone earlier in the summer, and he broke his chain at the beginning of the race," Clark said. Parke fixed the chain and was able to recover the seven minutes of lost time to catch the racers in his group.
Placing second in the 11th-grade category, Chovan's score was enough to catapult the group to the podium.
Fairview won the event ahead of second-place finisher Platte Canyon, that Clark described as a "huge emotional" win due to their recent school tragedy.
Clark also credited the Routt County Riders Larry Johnson Memorial Fund that helps Steamboat teams with travel costs and entry fees to compete in the statewide high school and middle school competition.