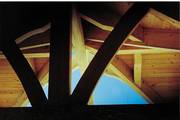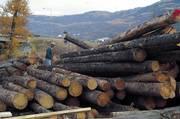 Steamboat Springs — There is no shortage of materials in Steamboat Springs for timber framer and sawmill operator Joe Bonn to work with.
Bonn, who owns J Bonn Wood Products with his wife, Maggie, works with reclaimed wood as well as pine native to Routt County. For the past nine years, because of the bark beetle epidemic, Bonn has not had to go far to find pine.
He uses logs that were harvested from North Routt County.
"That whole area has just been devastated," Bonn said.
The timbers are stacked high in the yard at Bonn's business along 13th Street next to the James Brown Soul Center of the Universe Bridge.
There is one easy way to tell that the wood at Bonn's yard came from a tree that fell victim to bark beetles. There is a faint blue-gray stain from the fungus running throughout the pine.
"It really gives it a nice look," said Bonn.
Bark beetles have killed off large tracts of pines in Northwest Colorado, including thousands of acres in the Routt National Forest.
Rather than allowing the native pines to rot or dry out and become a fire danger, local businesses like Bonn's are giving the lumber new life.
"It's better to get the wood out before the forest fires start," Bonn said. "There is just so much wood in Colorado right now and people need to use it before it rots."
Bonn built his first home in North Routt County out of the pine.
Although Bonn said Douglas fir is the species of choice for timber frame construction, it is expensive, costing about $3 per board foot.
Pine is widely available, strong enough to build a home and can cost as little as $1.20 a board foot. If the trees are milled on site, the lumber can cost as little as 30 cents a board foot.
"In the old days, that's what they would do," Bonn said. "They would clear a field and build a home with the timber."
Customers also like knowing there is a local product in their home.
"It just gives them more of a connection," Bonn said.
The fallen trees have been revived into a number of applications by Bonn, including log benches at Marabou Ranch, a timber-framed home on Harwig Circle in the Fish Creek area, doors and cabinets.
"We do anything," Maggie Bonn said. "We're really creative, and people come to us with ideas."
The business is scraping the bark off of 2,000 feet of pine boards to be used as siding for a barn.
Vista Verde Guest Ranch sells timber to Bonn.
The ranch has harvested 200 to 300 pines every year during the past six years. This year, the ranch will cut down more than 1,000 dead pine trees, said Charlie Cammer, the ranch's operations manager.
"Whatever we don't spray, they attack," Cammer said.
He estimated the pines on the ranch have thinned by 50 percent during the past years due to the bark beetles.
"After the grief session, you have to look at the good side," Cammer said.
The good side, he said, was that they were able to use the trees for siding, decks, buildings, beds, tables, chairs and "an awful lot of firewood."
"It's good if we can reuse it in the community," Cammer said. "It's comforting for the guests that have been coming here for years and years to see it turned around and used back in the ranch."