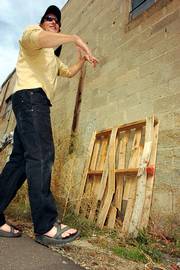 Another downtown Steamboat Springs business was broken into Tuesday. The person or people who broke it didn't take anything from the business, but someone slashed one of the company's rafts before "trashing the place" and leaving, police said.
Blue Sky West owner John Duty said whoever broke into the outfitter's warehouse in the 1100 block of Lincoln Avenue most likely climbed 20 or 30 feet to gain access to an open window into the building.
Duty said he found the deflated raft and the trashed warehouse Tuesday morning. Employees had not been to the warehouse for several days, so Duty did not know when the crime occurred, he said Wednesday.
Although he has not completed an end-of-the-year inventory check, Duty did not think anything of value was taken from the store.
"It's kind of a weird deal because someone just threw toilet paper all over the place and cut our raft with a knife, but other than that, I don't think anything is gone. It's odd because we have kayaks, stereo speakers and tons of camping equipment in there," he said.
Duty estimated the raft is worth about $5,000 and said it cannot be repaired.
Duty said the storage building had not been burglarized before, though someone reportedly tried to throw a steel beam through the building's front door in the spring.
"It was shatterproof glass, so it didn't go through, but we did have to replace the (glass)," he said.
Blue Sky West is at least the sixth Steamboat Springs business that has been burglarized in the past two months.
"I guess this is just what happens in Steamboat Springs these days," Duty said.
Police said they are unsure whether the Blue Sky West burglary is related to the other burglaries and that the incident is still under investigation.
Chris Ecker, a 20-year-old man transient man, was arrested in August on suspicion of second- and third-degree burglary and theft charges after police received a tip that Ecker was trying to sell stolen goods at a Steamboat Springs campground.
Ecker allegedly broke into Backdoor Sports, Straightline Outdoor Sports, the Steamboat Springs Health and Recreation Center, Terry Sports, Rocky Mountain Chocolate Factory and Sugar Run and took more than $4,000 worth of money and merchandise from the stores.