Youth Corps to help pilot "Safe at Home"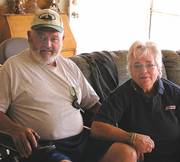 A steep driveway leads to Bruce and Pat Weng's home, a comfortable modular sitting high among aspens and overlooking a vibrant green valley near Oak Creek.
The couple has enjoyed their quiet, yet rugged, life there for 12 years and hopes to remain there despite doctors' confirmation in May that Bruce, 63, has ALS.
The neurodegenerative disease is gradually killing Bruce's muscle strength. He can no longer walk and uses his arms to navigate daily talks. Routines such as moving his scooter through doors, hoisting himself out of bed and especially bathing are becoming increasingly difficult.
"It's always wet and slippery it's just kind of scary," he said about getting in and out of his cramped shower.
Taking a shower and getting around his home in general will be easier for Bruce thanks "Safe at Home", Northwest Colorado VNA's pilot home modification program, a partnership between Aging Well and Rocky Mountain Youth Corps.
Through the program, young volunteers soon will be renovating the Weng's bathroom with a large shower that will easily accommodate Bruce's wheelchair.
They also will install automatic doors and an interior ramp between the garage and laundry room so Bruce can drive his handicapped-modified van directly into the garage and access the house without having to go outside a big benefit in the winter.
The Wengs, who are relying on Pat's income from her full-time retail job until Bruce receives disability benefits, otherwise wouldn't be able to afford such improvements improvements that will help the couple remain in their home, Pat said.
"It just sounds wonderful," Bruce added. "Anything we can do to make life easier, as I get a little worse, will be a help to me."