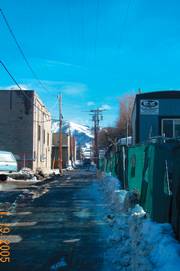 Steamboat Springs — The city is nearing completion of a project to brighten alleys in downtown Steamboat Springs.
The 2006 utility undergrounding project is in the final phase of construction, city officials said last week. The project placed power lines and utility cables underground along nearly 10 blocks of downtown alleys, with the ultimate goal of removing utility poles that clog the alleys and stretch wires across the sky.
"It's starting to look a little prettier down there," said Anne Small, the city's purchasing and risk manager. "Just stand at 10th Street and look one way, then look the other - it's night and day."
The alley runs in between, and parallel to, Lincoln Avenue to the north and Yampa Street to the south. While the project placed lines underground in the alley from Fifth Street to 12th Street, poles have only been cleared between 10th and 12th, creating the marked difference in appearance referred to by Small.
The remaining poles, in the alley from behind Tequila's restaurant on Fourth Street to the Yampa Valley Electric Association on 10th, will be removed in coming months.
"Yampa Valley Electric will be removing its equipment from the (aboveground) poles over the next few months and Comcast is scheduled to complete the cable conversion by mid-October," Small said. "Unfortunately, Qwest will not complete their conversion until the spring of 2007; however, after their work is complete, the poles will be removed."
Small said that converting power from aboveground to underground lines and cables impacted about 50 downtown businesses. Crews from Yampa Valley Electric often worked from 4 a.m. to 9 a.m. to minimize that impact, Small said.
The next phase of the utility undergrounding project will eventually remove aboveground power lines between Fifth Street and Third Street.
"Those alleys are going to become so much more pedestrian friendly," Small said.