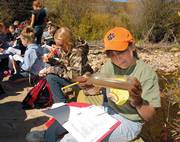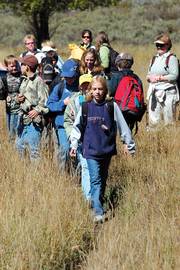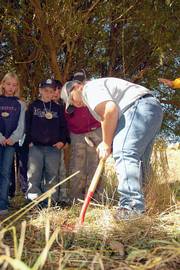 Steamboat Springs — There were no desks, chalkboards or bells to signal the end of class, but that didn't mean Hayden and Steamboat Springs sixth-graders weren't learning.
In fact, Hayden's Austin Cless and Errol Ormesher believe they got more out of their Yampa Valley Science School experience than they would have from reading a textbook.
"You are being able to do it," Cless said.
"You can kind of understand it more," Ormesher said.
After all, when learning about aspens, conifers, wetlands and meadows, it only seems appropriate for students to go straight to the source.
This week, that source was the forests, creeks and meadows surrounding the Perry-Mansfield Performing Arts School and Camp outside of Steamboat Springs.
"There's a saying, 'Tell me and I know. Show me and I understand. Involve me and I remember,'" said Gretchen Van De Carr, executive director of Rocky Mountain Youth Corps, which runs the annual science school for sixth-graders in all three Routt County public school districts. "We're involving them."
Last week, Hayden's sixth-graders and half of Steamboat's sixth-grade class worked with RMYC instructors, learning more about the environment in which they live.
The other half of Steamboat's sixth-grade class went to Science School from Sept. 18 to 22.
Through interactive experiments, journal writing and three nights of camping at Perry-Mansfield, the sixth-graders got a unique experience in science and socialization.
"The core curriculum is based on mountain life zones, and we've chosen the four mountain life zones that most closely integrate with their school classroom studies," Van De Carr said.
Steamboat sixth-grader Katherine Cooper echoed the words of Cless and Ormesher with regards to learning about the environment in the environment. On Tuesday morning, her group spent time in the aspen resource blocks.
"From the bark of an aspen tree, there is juice," Cooper said. "If you mix it with water, it's like sunscreen."
The students also learned that a chemical helps aspen leaves know when it's time to fall from the tree.
On Tuesday afternoon, the group worked with RMYC senior leader Lauren Monroe to explain how household items such as a sponge can symbolize a wetland.
A sponge absorbs water, Monroe explained. Likewise, a wetland absorbs excess water caused by runoff or retains water if standing water dries up.
Listening to sixth-graders use their reasoning skills and imagination was exciting, RMYC program director Mark Wertheimer said.
This was the sixth year of Science School. It used to be held in North Routt, but Perry-Mansfield provides room for lodging and the natural environments needed for the science experiments.
The students ended the week with weed eradication Friday at The Carpenter Ranch outside Hayden.