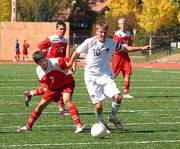 The Steamboat Springs boys varsity soccer team could not catch a break during its game against Glenwood Springs on Saturday.
The Sailors had a disappointing loss on their home turf to the Demons, whose single goal was enough to take the game, 1-0.
"We couldn't get that little bit to beat the keeper," said coach Rob Bohlmann. "We have to be resilient and fight back."
Moving the ball up the field was the biggest obstacle for the sailors during the first half. When a Sailor forward managed to get past midfield, there seemed to be a wall of red Demon jerseys ahead of them and no one to pass to. Despite heavy pressure by the Demon offense and defense during the first half, the Demons were unable to score.
During halftime Bohlmann stressed timing and the movement of the forwards up the field to his team.
The pep talk seemed to work, and in the second half, the Sailors came back strong.
The offense was given the opportunity to make some plays and the Sailors possessed the ball for a majority of the second half.
"In the second half, I would say 90 percent of the time we just couldn't get the ball in," said Sailors senior forward Sam Houston.
Despite the offense stepping up, the Demons were able to score the one goal they needed with a little help from a Sailors defender.
Glenwood Springs senior Isaac Hussein took a penalty kick as a result of a handball by the Sailors. The shot from about 25 yards out on the far side of the field found its way to a Sailors defender by the goal who accidentally knocked it in.
In the final minutes of the game the Sailors got three shots off, but none of them found the goal.
"We're a better team than how we just played," Houston said.
He said they should have been able to beat the Glenwood Springs.
The Sailors beat Battle Mountain, 4-0, earlier this season, which is the only team Glenwood Springs has lost to.
Not scoring in Saturday's game also does not appear to concern Bohlmann.
"We're playing fairly solid," he said. "Scoring goals has not been an enormous problem for us, and I don't think it will be."
The Sailors are now in third place in the Western Slope League, with a record of 4-2-1. The team will play Eagle Valley away Thursday at 4 p.m.
"This will be a big week of training for a big game on Thursday," Bohlmann said.