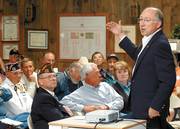 Steamboat Springs — The parking lot in front of the Routt County Veterans Affairs Office is empty. It is so early that the traffic signals are still blinking yellow and red.
Ken and Cheryl Flag typically wouldn't be driving a Ford Taurus around Steamboat Springs at 5:15 a.m., but Ken has a mid-morning appointment at the Veterans Administration hospital in Grand Junction. He has little choice - there are no VA hospitals or community-based outpatient clinics in Northwest Colorado.
Local veterans and elected officials hope that will soon change.
Colorado's two VA hospitals are in Denver and Grand Junction, and its 11 community-based outpatient clinics are scattered along the Front Range and Eastern Plains.
"(This is) the only section of the state without one," Ken Flag said. "I don't necessarily need a building, but if we had contracts for doctors (it would help)."
With that, Ken Flag, 57, excuses himself and begins the 386-mile, seven-hour roundtrip to Grand Junction.
Cheryl Flag accompanies her husband in case the can't drive on his own after the appointment. Besides, the extra pair of eyes is helpful. Colorado Highway 13 between Craig and Rifle is dangerous, especially this time of year, when big-game animals descend into the valleys for food.
Ken Flag is a Vietnam veteran who only recently began taking advantage of the medical assistance offered to him through the U.S. Department of Veterans Affairs. Flag previously has driven other veterans who cannot drive themselves to doctor's appointments in Denver or Grand Junction.
A recent push by state officials like U.S. Sen. Ken Salazar, D-Colo., and others is sparking hope that a Northwest Colorado community-based outpatient clinic for veterans will be a matter of when, not if.
Craig has been identified as an ideal spot for such a clinic, said Michael Condie, service officer for Routt County Veterans Affairs. Condie met with Salazar in August to discuss the possibility of building a clinic in Craig. The need certainly exists, Condie said.
There are more than 3,600 registered veterans in Routt and Moffat counties. VA hospitals and clinics are for veterans only.
"They've earned it," Condie said.
More than six million American military veterans live in rural communities where access to health care is a constant challenge. In Northwest Colorado, weather further complicates matters for aging vets, especially those who must travel over mountain passes to receive the care they are afforded.
"It's important for us to have something up here," Condie said.
Salazar seems to agree.
In early August, the Senate approved the creation of an Office of Rural Health Care, an idea spearheaded by Salazar.
"This is a positive step forward," he said. "This office will increase the VA's focus on this often-neglected segment of our population and improve the way our government provides services and care to those veterans."
Creating an Office of Rural Health Care stemmed from a field hearing Salazar held with veterans living in Colorado's rural communities. Those veterans expressed concerns about their special circumstances.
Salazar teamed up with U.S. Sen. John Thune, R-S.D., to address those concerns. An estimated 23 percent of the country's veterans live in rural areas, and they often are in poorer health because they of the difficulties associated with getting treatment, Salazar's office reported.
"The care our nation provides rural veterans in return for protecting our country should not suffer because some many have chosen to live in rural America," Salazar has said. "We owe them no less for their sacrifice."
But community-based outpatient clinics may not be the only answer. The Office of Rural Health Care, which is awaiting consideration in the House of Representatives, will conduct a study on the feasibility of expanding the use of fee-basis care in which the VA contracts its services to third-party providers to improve access for care to rural veterans.
In the meantime, local veterans like Ken Flag will continue to make early-morning trips to Grand Junction and Denver to receive the medical care promised to them.
- To reach Melinda Mawdsley call 871-4208 or e-mail mmawdsley@steamboatpilot.com