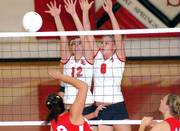 Steamboat Springs — Rallies late in the games were not enough for the Steamboat Springs girls varsity volleyball teams to win against the Eagle Valley Devils.
The Sailors lost to the Devils in three straight games Saturday at Steamboat Springs High School 16-25, 21-25 and 23-25.
The varsity squad played a double-header, and after the loss to Eagle Valley, the Sailors lost to Summit County in four games, 25-19, 15-25, 20-25, 24-26. With the loss to Summit County, the Sailors are 3-5 Western Slope League play this year.
The late game rallies and losses have been a theme throughout the first half of the Sailors' season.
"It's just too little to late, as the saying goes, I guess," said Sailors coach Wendy Hall. "It's very dangerous to get used to losing and I think that's happening."
The Sailors came out strong in the first game with strong play by junior outside hitter Katy Gary.
"Katy Gary had a pretty good hitting day," Hall said. "She was the one girl that was really effective with her swing."
The second game stayed close until the Sailors hit 16 points, and then they lost their steam. The Devils went on an eight-point streak and won the game.
In the second game, the Sailors had to recover from an early five-point deficit. They gained on the Devils slightly, but the closest they came to taking the lead was during a rally late in the game when the Sailors came to within two points.
The Sailors came out strong at the beginning of the third game by taking a 3-0 lead, with strong serves by junior outside hitter Lizzie Stoll. For the match, Stoll got 16 of 16 serves in play and two aces.
Despite the strong opening in the third game, the Devils, with nine aces in the match, came back and took a commanding lead by mid-game.
The Sailors again rallied back from an 11-19 third-game deficit bring the team to within two of the Devils' 24 points.
Senior Erin Gleason "came alive at the end of that game with blocks," Hall said.
The momentum vanished after a time-out was called by the Devils and Eagle Valley took the match.
"We just wait till the last minute to step it up and we can't get it together," said Gary, who had 12 kills in the match. "We fight at the last minute and we should fight all the way through."
There may be some time left in the season to turn things around.
"We're only at the halfway point in our league play so absolutely it's salvageable," Hall said. "But there is definitely some urgency right now. We need to feel a sense of urgency."
"I think we can totally turn it around," Gary said. "We're not too far behind."
- To reach Matt Stensland, call 871-4210 or e-mail mstensland@steamboatpilot.com