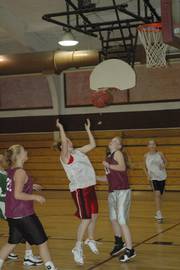 Oak Creek — After starting team practices as soon as legally allowed - 12:01 a.m. Nov. 11 for an opening "midnight madness" session - the girls on the Soroco High School basketball team are more than ready for the regular season to begin.
"I'm psyched, I can't wait to get on the floor," junior Glenda Long said. "Everybody played all last year, so there was a little extra bonding - knowing where they are on the court, the moves they like, the shots they like."
Long is one of three returning starters and six returning varsity letter athletes on the team. Of those returning varsity players, Toni Lombardi is the team's only senior.
Lombardi's distinction as the team's sole senior suits her well, and she echoed Long's desire to begin playing games. Lombardi said she's getting a little too used to the team's rigorous conditioning drills in practice.
"You have to be in shape to run the (defense) we're running," Lombardi said after Tuesday's practice. "We're one of the only teams in the league that runs man-to-man."
Head coach Danelle Rivera said that with four state track qualifiers on her roster, she thinks her team's strength is in its speed. That speed should lead to high-percentage shots on offense, and it will make it easier to add different looks to her man-on-man defensive scheme.
Without much height on her squad, Rivera looks to run a versatile, guard-oriented offense with Long and sophomore Sarajane Rossi, who will likely fill the primary point guard and shooting guard roles.
Rivera still calls the starting lineup "malleable" and subject to change before the Rams' first game Friday afternoon in DeBeque. However, she pointed to Long, Rossi and junior Amanda Wilson as definite playmakers. Rivera also expects key contributions from junior starter Bailey Carrell, Lombardi and Kelsey Samuelson.
The Rams finished 6-11 last year, which was an improvement from the team's 2004-05 finish. Rivera now looks ahead at tough opponents such as Meeker and Plateau Valley that have matured from young squads into skilled, senior-dominated teams. Rivera is optimistic that her self-confident team can make the same step and achieve its goal - finishing the season with a winning record.
"These girls know success that they've built on before," Rivera said. "They know they're young, but what's ahead is always present in their minds."
- To reach Dave Shively, call 871-4253
or e-mail dshively@steamboatpilot.com