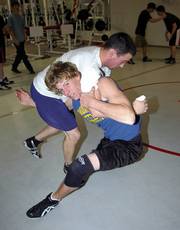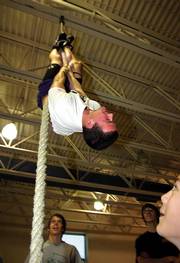 Steamboat Springs — Steamboat Springs wrestler A.J. Carmack isn't worried about numbers.
As the Sailors' lone senior, Carmack thinks the core of his team's dedicated wrestlers have the ability to make significant individual impacts this season.
"Even if we just take five guys, we're going in with the attitude that the other team's going to say, 'Man, I hope they don't bring a full squad next year,'" Carmack said after Wednesday's practice.
Although 10 wrestlers were grappling on Steamboat Springs High School mats Wednesday evening, head coach Sean McCarthy said only five of his wrestlers have practiced enough to compete in the team's first dual match at 6 p.m. tonight against Rangely.
The small squad puts the Sailors at a disadvantage in dual matches. Each weight class for which the team can't field a wrestler results in a six-point loss. Thus, the team must gain back points through pins - a feat the Sailors accomplished in their opening match last year by pinning out and winning the final four matches.
McCarthy hopes a few more wrestlers will join the squad in the coming weeks, which could help him fill spots on as many as 12 of the 14 weight classes. But McCarthy is more concerned with putting his most competitive wrestlers on the mat.
At the top of that list are the five wrestlers who will compete tonight.
Junior Houston Mader has state championship potential in the 140-pound class, his coach said.
"He can find a way in contentious matches to come out on top," McCarthy said. "He just wants it more, even at exhaustion."
Mader's goal is to return to the state tournament, but first he must focus on staying healthy and winning matches throughout the season.
"The whole season is working toward state," Mader said. "You have to work hard to get up high in the placing to get better seeding."
Carmack is returning to the 145-pound class after a knee injury sidelined him before last year's regionals. Junior Ben DeLine also is coming back from a knee injury, and McCarthy expects him to excel in the 152-pound class.
McCarthy also is pleased at how fast freshmen Derek Morris and Cody Harris have adjusted to high school-caliber wrestling after dominating matches at the middle school level. He thinks Morris and Harris, who will wrestle in the 119-pound and 160-pound classes, respectively, are promising talents who could show well at the regional level.
Overall, McCarthy thinks his team is ready for a strong performance at tonight's meet and at Saturday's Carl Ramunno Invitational.
"(The invitational) is where you feel yourself out for the rest of the year - see where you're at and what you've got," said assistant coach Shane Yeager, a 1989 Steamboat Springs graduate who wrestled for Ramunno.
Saturday's invitational tournament features eight teams - Steamboat, Hayden, Soroco, Moffat County, North Park, West Grand, Rangley and Saratoga (Wyo.). Steamboat Athletics Director Richard Lee said all 14 weight classes will be divided into individual brackets or round-robin pools. The tournament begins at 8 a.m., and the championship matches should take place between 1:30 and 3 p.m.
"I'm excited," Carmack said about the home tournament. "You can finally put all the moves together in your head and start reacting without thinking about it."