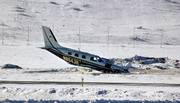 Steamboat Springs — A single-engine plane slid off the runway during take-off Thursday at Steamboat Springs Airport.
Les Liman, a longtime Steamboat Springs resident and pilot, was preparing to depart from the Steamboat Springs Airport around 9 a.m. when his Piper Meridian veered off the left side of the runway and got stuck.
"I really don't know what happened," said Liman, who was flying to Cañon City. "It was nothing I haven't done a hundred times before."
Liman was not injured. No one else was in the plane.
Liman estimated he was going about 60 mph when the plane want off the runway, slid about 300 feet and came to rest on its nose.
Steamboat Springs Airport Manager Mel Baker said the plane stopped shortly after sliding through the airport's runway safety areas, which are designed to limit that amount of damage done when a plane leaves the runway.
"We've had other aircrafts do this exact same thing, either because of a tire blowout or something else. It isn't that uncommon," he said. "I wouldn't say it's normal, but it's just something that happens."
Baker said the plane lost about 25 gallons of fuel during the accident. Steamboat Springs Fire-Rescue crews cleaned up the spill.
A crane was going to lift Liman's plane from the runway later in the day, Baker said.
City manager Alan Lanning said a report from George Krawzoff, city transportation director, indicated the runway was snowy and icy in spots at the time of the accident.
- To reach Alexis DeLaCruz, call 871-4234
or e-mail adelacruz@steamboatpilot.com