Scott Stanford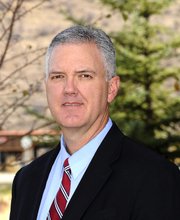 Scott Stanford is general manager of the Steamboat Pilot & Today. Call him at 970-871-4202 or email
sstanford@SteamboatToday.com
Several people commented on the juxtaposition of our front page on Tuesday. It showed a photo of the demolition of the Westland Mobile Home Park above a story headlined, "A vision for housing."
It was great irony - a mobile home park that provided affordable housing being wiped out to make room for a project that won't. But the juxtaposition came about as much by accident as it did by intention.
Photographer Tyler Arroyo got the photo because he noticed it while driving downtown. Reporter Mike Lawrence wrote the story because it was the biggest topic of discussion at the upcoming City Council meeting. Lawrence and Arroyo were working on separate assignments. They didn't talk beforehand.
So, we got lucky.
But what was interesting to me wasn't the juxtaposition itself. It was how little things have changed since I first moved here. The front page of Tuesday's newspaper would have been just as ironic and just as catching and just as appropriate on my first day on the job in May 2001.
At that time, I was sticker-shocked by home costs. I bought my first house in 1996 in San Angelo, Texas - a 1,700-square-foot, three-bedroom, two-bathroom, brick house with a two-car garage for $66,900. I could not fathom making the leap from that to a $250,000 mortgage.
This issue affected me personally, and I wanted the newspaper to address it. In the summer of 2002, I led our staff in an eight-part series about the community's affordable housing problem.
This was no small undertaking, and we won a national public service award for the series, "The Great Divide." But truth be told, the series had little lasting impact. In fact, "The Great Divide" is, I think, actually greater today.
It took me two years to get ready for a $250,000 mortgage, and by then, the mortgage had gone up to $350,000. When I came back to Steamboat earlier this year, it was $450,000. When I get my home appraised next year, I hope it will be more than $500,000. I have evolved from "I can't afford this housing market" to "I can't afford not to be in this housing market."
I know there are many people who simply cannot afford to get into this market, and I know their numbers grow every month. I'm proud that the Steamboat Pilot & Today has, time and again, advocated for affordable housing initiatives.
But I'm learning that such fixes are not easy to do on a large scale and might not even be the right thing to do.
Data show Steamboat has an above-average number of homeowners. For them, the affordable housing problem is theoretical at best. Homeowners want to see their homes rise in value as rapidly as possible. Selling them on affordable housing initiatives that can run counter to that goal isn't easy.
Similarly, affordable housing is not a problem for businesses until it becomes a labor problem. For every worker who leaves Steamboat because he or she can't afford housing, there are four or five others willing to come replace them. Until those replacements dry up, businesses have little incentive to address the issue with any fervor.
There was a time when I thought I could be a champion for affordable housing in Steamboat, that as the editor of the newspaper, I could influence change for the better on this issue. But that was naÃive, both in the assumption that the newspaper could wield such influence on an issue so complex and that the direction I wanted was better for the community.
I have fewer answers on this issue now than I did five years ago. All I do know is that photos, stories and headlines like those on Tuesday's front page are likely to appear again and again on the pages of Steamboat Today in the years to come.
Scott's Sanford's From the Editor column appears on Thursdays in Steamboat Today. Contact him at 871-4221 or e-mail sstanford@steamboatpilot.com.