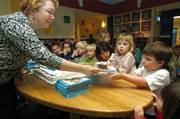 Steamboat Springs — The children at GrandKids Child Care Center learned all about the letter "K" on Thursday.
Makenna Keyek must have paid close attention, because the 4-year-old had little trouble spelling her name when asked.
Bundled up and ready to go home, Makenna stopped to talk about all the things she loves about GrandKids, which celebrated its 25th birthday Thursday.
"I like going to the Doak," Makenna said, referring to her visits to the Doak Walker Care Center, which is in the same building as GrandKids. "You say 'hi' to friends at the Doak."
GrandKids was the first day-care center in Colorado built inside a nursing home, said Christine McKelvie, spokeswoman for Yampa Valley Medical Center. The relationship between GrandKids and the Doak Walker Care Center is a unique and powerful one for both the residents in the care center and for the children, McKelvie added.
Johrene Meyers-Story's two children are enrolled at GrandKids. She remembers the bond she formed with her "Special Friend" when she was at GrandKids nearly 20 years ago. "Special Friend" is the name given to the program that pairs a GrandKids child with a Doak Walker Care Center resident.
"I still have a picture of my Special Friend," said Meyers-Story, who was picking up her children after Thursday's birthday celebration.
GrandKids was the day care of choice for the mother, and she is thrilled her son, Aidan, 3, already has developed a love of "going to school." Meyers-Story credits the staff for making GrandKids the place it is.
GrandKids director Joyce Delancey has been with GrandKids for 22 years. Assistant Director Michelle Clark has been with the center for 16 years, so Thursday's 25th birthday party was a special day for them.
GrandKids accepts children as young as 8 weeks and up to age 5. The children are separated by age groups and taught according to their needs, Delancey said.
A music program with the Doak Walker Care Center, the ski program and the daily hot meals the children eat also are unique to GrandKids.
McKelvie remembers her children learning several important things while they were enrolled in GrandKids. "They learned manners, and they learned to try new foods," McKelvie said.
Delancey and Clark had to laugh at that one. Many parents in town can thank GrandKids for what is affectionately called the "No thank you bite."
Children must take one bite of everything on their plates. If they don't like a food item, that is their "No thank you bite."
Makenna admitted 25 was "really old," and she was happy to be there for such a special birthday.
"I always loved coming here," Meyers-Story said.